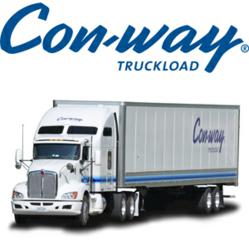 Joplin, MO (PRWEB) February 08, 2013
Major companies such as Con-way Truckload not only establish their image and appeal to this new generation of drivers with impressive websites of their own, they take it a step further and link themselves to the industry's most popular and reputable job sites such as TruckingUnlimited.com. While the truck driver shortage is already forcing employers to be more competitive just to survive, an international carrier such as Con-way needing all types of drivers in every state, also needs to reach out to an unlimited audience with the help of TruckingUnlimited.com
Currently Con-way Truckload has posted positions for experienced solo and team company truck drivers and owner operators, offering many things to appeal to new applicants such as a competitive compensation package, consistent miles, great benefits and one of the most modern and best-maintained fleets in the industry. Considering their team more than just drivers but as part of their family, Con-way was named by the Truckload Carriers Association as one of the "Best Fleets to Drive For" for the second consecutive year. Carriers were evaluated on performance in areas such as: benefits, professional development, driver and community support, and safety record.
The company has also become known for its consistently superior, on-time performance and capacity, to grow from a two trailer operation into a world class carrier with over 2,600 tractors and more than 8,000. Now a leading provider of over-the-road, dry van and full-truckload transportation services across North America, Con-way Truckload operates from five dedicated truckload terminals, 37 sales offices and over 3,000 employees, throughout the United States, Canada and Mexico, serving North America's leading retailers and manufacturers.
As a company that size, Con-way also places equal importance on serving their driver's needs and while the internet is today's best way to finding good drivers, they also want to keep them as well and will go the extra mile to do so. In fact, Con-way Truckload has even established its own Driver Retention department with one simple objective: to listen to their drivers, find out what they need, then make their job as easy as possible. Not only has Con-way's Driver Retention department helped change the company's entire culture by but it has reduced their turnover rate from about 35% to %60 below the national average. The company prides itself in its commitment to their team and believes its what sets them apart from all other carriers. "There are so many things we can do to make the job better for drivers. They're sometimes small things, but it all helps to make a difference. At Con-way Truckload, we believe our drivers are as important a customer as the people shipping freight," says Charlie Sullins, Manager of Con-way Truckload Safety and Retention.