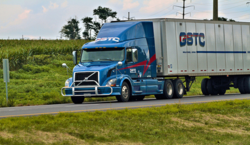 Walford, IA (PRWEB) February 13, 2013
With the number of Americans still looking for work and the amount of great paying truck driving jobs increasingly going unclaimed, TruckingUnlimited.com has become one of the most prominent job sites attempting to provide the trucking industry with it's solution. Using the immediacy and widespread access of today's Internet technology to target a niche demographic of those seeking specific truck driving jobs, TruckingUnlimited.com is a successful example of these specialty job sites are revolutionizing the trucking industry and meeting its demands. With a simple objective of connecting today's talent pool with immediate on-line access to the best and most current truck driving positions across North America, TruckingUnlimited.com has become known as a one stop on-line shop for trucking jobs, benefitting both applicants and employers.
GSTC Trucking & Logistics is now one such employer expanding their search for qualified drivers with TruckingUnlimited.com's popular job board increasing their exposure. Currently seeking experienced OTR drivers to run the Midwest-Northeast quadrant, the family owned, debt-free, driver friendly carrier is offering a competitive package to attract the best-qualified candidates. With incentives that include weekly pay of up to $.435 w/ bonuses, excellent benefits, passenger rider programs, home time with consistent miles, 100%, as well as EZ pass and Pre-pass to name a few, GSTC will surely inspire a number of qualifying applicants.
As a top quality carrier transporting a wide variety of general commodities such as food ingredients, retail and industrial products and personal care products, GSTC requires drivers of all commercial types. But as a company that has built their loyal customer base of small businesses to large corporations over 28 years, GSTC also demands the best quality drivers unique to their reputable team. Citing experience as a key characteristic distinguishing their company above the rest, GSTC has a certain criteria that drivers must satisfy to even be considered. This includes a proven safety record, verified over the road driving experience, customer focus and a track record of commitment to driver excellence.
As a family-owned company, GSTC's core business philosophy is "above and beyond", "do what we say" and this entails dedicated employees with a results oriented work ethic, sharing the company's commitment to excellence. Although its become increasingly difficult for employers to find truck drivers at all these days, GSTC is one such company that will still hold out for the best of them and will go the extra mile by taking more strategic measures to find them. Partnering with TruckingUnlimited.com is an example of how specialty job sites are serving these companies by providing today's most effective measure in the competition for quality truck drivers.