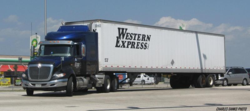 Nashville, TN (PRWEB) March 01, 2013
Western Express is among the increasing number of employers recognizing the major advantages offered by specialty job sites such as TruckingUnlimited.com. With the simple objective of connecting today's talent pool with immediate on-line access to the best and most current truck driving positions across North America, TruckingUnlimited.com has become known as "one-stop on-line shop for trucking jobs", benefiting both applicants and employers. It is an example of how specialty job sites now offer employers the best of both worlds; internet capabilities allowing immediate, unlimited exposure to a niche demographic of today's truck drivers, (who want immediate access to the best available jobs). TruckingUnlimited.com is proving to not only meet what the current truck driver shortage demands, it is another indication of how the Internet is revolutionizing the trucking industry.
Already benefiting from their own technologically advanced logistics team capable of implementing dedicated services in any location, Western Express is a large scale carrier offering Truckload Van, Dedicated Fleet, Flatbed Transportation, Logistics and Expedited Truck/Rail. Taking pride in their fleet that includes some of the newest equipment in the industry, over 6500 trailers and 2500 power units that are all satellite tracked, Western Express is also offering new compensation packages to recruit new drivers and to retain their current team. From the immediate $500 sign-on bonus for flatbed drivers to accessorial pay and driver trainer positions, to outstanding miles from consistent freight, to the Health, Dental and Vision benefits in as fast as 30 days, to 401K programs, the company has added a new bonus payment rate for their drivers as well. Both new hires and current drivers with good CSA scores and safety records will earn even better pay rates, making them amongst the highest paid drivers in the industry.
With TruckingUnlimited.com to attract qualifying drivers with a minimum of 6 months experience, Western Express also has their own specialized team of recruiters to assist new applicants in determining their individual needs. Whether its more home time, more miles or available rider programs, Western Express truly cares about what is important to their drivers and have gone the extra mile with a specialized team of driver managers to proceed from the recruiters. The driver managers assess the information provided by the recruiters and determine how the company can meet each driver's needs.
While innovation, equipment, logistics and technology has been integral to the success of Western Express, they also recognize that good drivers are their greatest asset and before going the extra mile to keep them, specialty job sites are today's best tool for finding them.