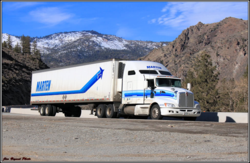 Mondovi, Wisconsin (PRWEB) May 16, 2013
Just as the Internet added efficiency to every aspect of doing business in every industry, it is revolutionizing all areas of the trucking industry and has become its best tool for recruiting today's talent pool. Companies such as Marten Transport are recognizing that in addition to the importance of an impressive company website to establish their on-line image, appealing to a new generation of truck drivers requires increased exposure on popular industry job sites - where the majority of job seekers now go in search of jobs.
With the simple objective of providing immediate on-line access to the best and most current truck driving positions across North America, TruckingUnlimited.com has become known as the "one-stop on-line shop for trucking jobs" – benefiting not only applicants, but employers as well. With Internet capabilities that allow immediate, unlimited exposure to a niche target audience, TruckingUnlimited.com has become a convenient meeting place for all and a time saving service matching the best-suited candidates to the best available trucking jobs. Marten Transport is an example of the growing number of major US carriers recognizing the major advantages of evolving their recruiting practices and getting on board with TruckingUnlimited.com.
As one of today's leading national protective service transportation companies, Marten Transport has reached it high level of success by providing excellent career opportunities for professional drivers and now their focus is on finding their caliber of candidates as well. Now offering excellent opportunities for both company and independent operator reefer drivers, Marten Transport has listed these available positions on TruckingUnlimited.com's job board.
Already named one of Forbes 200 best small businesses for five consecutive years, the "Best Place to Work" by Chippewa Valley B2B magazine and earning the Grand Prize for Safety from the Truckload Carriers Association, Marten continues to drive forward as a Certified Top Pay Carrier. Offering the professional driver the right combination of opportunity, support and drive, Marten's regional network allows driver to enjoy the advantages of more frequent home time, with no sacrifice in earnings potential.
In addition to consistent home time and top paying regional runs, Marten's drivers have many other perks to look forward to; such as annual pay increases, comprehensive benefits and the safety and pleasure of driving the best equipment available in the industry today.
Founded in 1946, Marten Transport developed a philosophy that still guides the way they do business today. "Treat your driving force and customers with the respect they deserve, and success will come naturally. It's a philosophy that has served them well for over 60 years and one that they expect will continue to succeed the company and their drivers - far into the future.