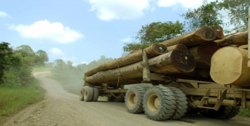 Phoenix, AZ (PRWEB) May 24, 2013
Providing today's talent pool with immediate access to current trucking positions available in every region, city and state across the US, TruckingUnlimited.com offers employers the wide spread exposure to find the criteria of drivers they specifically need. What is unique about the current positions Southwest Forest is offering on the TruckingUnlimited.com job board, is that they're contracted positions for independent and leased owner/operators instead of "company employed" drivers. Even more unique, is that some of these positions are intrastate, which means the rare guarantee of being home every night. Regular home time has become paramount to today's generation of truck drivers and it can still be a difficult job perk to find.
In addition to many other unique benefits Southwest Forest offers to drivers, the company is unique company in itself. Originally started by husband and wife team Steve and LuAnne Van Der Toorn in 1984 as Dependable Pallet; it began as a basic used pallet repair service. Their hard work and commitment to quality products and customer service soon paid off, dominating the niche market they served. Two years later they expanded into building new pallets, opening new markets for the company and the need to hire more employees.
By 1990, Dependable Pallet grew enough to add its own transportation fleet and in 1995, the company chose the name Southwest Forest Products, Inc. to better describe the range of products they offered. Describing themselves as a "progressive lumber and transportation company, Southwest Forest Products has become exactly that – manufacturing and distributing a range of products from industrial timber, to cut stock, to organic bulk and bagged mulch, to their original new and used pallet service.
Now leading the industry, the company employs nearly 200 people to manufacture and distribute their products in Arizona, New Mexico, Nevada, California and exports to Mexico as well. As Southwest Forest Products transportation, they are a contract carrier as well as a fully bonded and licensed brokerage. Operating with only late model trucks and experienced drivers, they strive to maintain their standard of strong customer service from sale through product delivery.
Finding qualified truck drivers has become challenging for any company and when companies like Southwest Forest requires a specific criteria of log truck drivers with 3 Axle Tractors – TruckingUnlimited.com is specifically geared to attract the right candidates to the jobs.