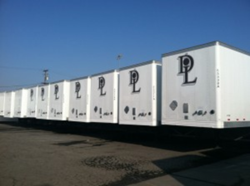 Fountain Valley, CA (PRWEB) June 03, 2013
Like most other industries, the trucking industry is greatly benefiting from today's technology by increasing efficiency in areas such as computerized logistics, electronic logging and satellite tracking. Now, with today's truck driver shortage making recruitment more difficult than ever before, the Internet is proving to be the primary solution for trucking companies everywhere. In addition to modernizing their image with impressive company websites to appeal to today's talent pool, on-line job sites have become essential for employers to recruit new drivers as well.
Partnerships between major carrier companies such as CRST Malone, C.R. England, Arnold's and Comtrak and popular industry job sites such as TruckingUnlimited.com is a significant indication of how the internet has revolutionized recruitment to a new level. Already proving successful for the innovative companies expanding their horizons to the many advantages on-line, Dot-line Transportation is another company to recognize the benefits of jumping on board.
Today's truck drivers are connected to the wired world as well and that means when they're looking for work, most often they go on-line. TruckingUnlimted.com has become a popular destination for this demographic of drivers using the information highway to find the industry's best, current truck driving jobs. With the website's job board providing new applicants with immediate access to truck driving jobs in every town, city and region across the nation, hiring companies such as Dot-Line transportation gain unlimited exposure to their specified niche target audience. TruckingUnlimited.com even takes the next step of matching the best potential candidates to the best-suited job openings, speeding up the recruiting process for everyone involved.
Speed has become key to Dot-Line Transportation's success as one of the leading long haul, expedited carriers in America. While their core business is the coast-to-coast, less-than-truckload market and a specialized service in volume and full trailer loads, the company's continued growth is mainly due to having the fastest transit times in the industry. With over 30 years of business, the family owned and operated company now has many Fortune 500 companies as customers and takes pride in their ability to provide consistent and expedited transit times on both truckload and less than truckload shipments.
As a company that is constantly growing, Dot-Line Transportation is in need of both company drivers and owner/operators to join their team. But even with today's tough competition for truck drivers, Dot-Line isn't compromising their high standards of professionals they hire and TruckingUnlimited.com is the fast track to finding the best men for the jobs.