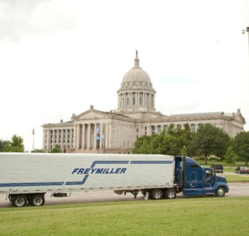 Oklahoma City, OK (PRWEB) June 05, 2013
Like every other industry advancing with technology and remodeling to benefit from the increased efficiency it provides, the trucking industry has advanced in almost every aspect of the business - including new recruitment strategies being adapted on-line. The Internet has become today's trucking employers' best weapon in the tough competition of finding qualified candidates for a growing number of immediate positions. Not only are more trucking companies aware of the need to establish their on-line image with impressive company websites of their own, they also recognize that appealing to a niche demographic of truck drivers requires the next step of connecting to the industry's most established on-line job boards – where today's generation of job seekers go.
With the simple objective of connecting today's talent pool with immediate on-line access to the best and most current truck driving positions across North America, TruckingUnlimited.com has become known as "one-stop on-line shop for trucking jobs," benefiting both applicants and employers. It is an example of how specialty job sites now offer employers the best of both worlds; Internet capabilities allowing immediate, unlimited exposure to their target demographic of those specifically seeking truck-driving jobs.
Freymiller is a leading trucking company specializing in the efficient and safe transportation of temperature controlled, time-sensitive products throughout the continental United States. The company cites their commitment to quality as providing the best service in the trucking industry by preserving traditional values of honesty and integrity, the effective operation and maintenance of well-designed equipment; the use of appropriate technology to improve productivity; and most of all, the selection, development and retention of highly qualified, motivated employees.
While TruckingUnlimited.com provides the expertise to ensure applicants meet Freymiller's high criteria of standards, the trucking company goes the extra mile to retain good drivers as well. In addition to a family like atmosphere, that encourages an open door policy and communicating one-on-one, Freymiller also offers their full-time employees a competitive salary along with excellent benefit packages that include: Medical Insurance, Paid Vacation and Holidays, 401K Savings Plan, Aflac Insurance, Tuition Reimbursement Program, Incentive Bonus Plans and many other competitive perks that new hires will find hard to turndown.