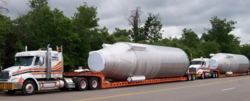 Oak Creek, WI (PRWEB) June 21, 2013
With the growing demand for truck drivers and so many great paying truck driving jobs going unclaimed, TruckingUnlimited.com has become one of the most popular on-line destinations for trucking industry employers and job seekers alike. Using the immediacy and widespread exposure of Internet technology to target a niche demographic of those specifically seeking truck driving jobs, TruckingUnlimited.com is a successful example of these specialty job sites are revolutionizing industry recruiting and meeting the employer's demands.
For a company like Transport National who prides itself as being an elite carrier specializing in oversized loads, they demand a certain criteria of drivers for their team.
Established in 1972, the Wisconsin based company has grown to a multi-national carrier across the United States, Canada and Mexico, serving a number of Fortune 500 companies as well. Not only does Transport National set itself apart by their unique ability to transport massive loads (such as huge tanks and satellites), they are highly innovative, economical and committed to uncompromising standards of safety. With eighty-five percent of their loads valued in the multi-million dollar range and requiring specialized equipment and handling, all Transport National employees are thoroughly trained to be highly skilled professionals, with a career path rather than just a job.
What Transport National demands from their drivers, also has the company striving to be "driver friendly" in every possible way. Recognizing that home time is one of the most important things for truck drivers today, their operations personnel works diligently to attain the very important balance between work and home for all of their drivers. While no trip length can be guaranteed the company tries to limit the trip durations from 5 to 14 days.
In addition to home time, Transport National also appeals to drivers as a top notch employer with a number of other things such as competitive wages paid on a weekly basis, vacation pay that increases yearly, health insurance, dental and vision insurance, life insurance, holiday pay, a 401K plan and their unique Flex-spending plan as well. If that's not enough to attract a landslide of applicants, Transport National Drivers operate a top-notch fleet of Kenworth and Freightliner tractors with Cummins/Cat and Mercedes engines. The company even offers paid orientation and training to qualified individuals with tuition reimbursement to qualified school graduates as well.