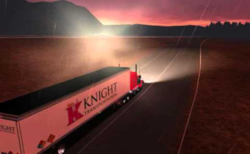 Phoenix, AZ (PRWEB) December 13, 2012
A family operation founded in 1990, Knight Transportation has grown into a major transportation network with over 3,500 tractors, 8,500 trailers and 31 service centers through-out the country. Further distinguishing itself amongst the companies competing for today's shrinking pool of truck drivers, Knight Transportation has also made the Forbes List of "200 Best Small Companies to Work For", for fifteen consecutive years. They attribute their uniqueness to being a growing innovative company, offering more than just jobs, but a rare opportunity for individuals to accelerate and advance their careers, with a diversity of paths.
As a nationwide carrier providing dry van, refrigerated, intermodal, port services and brokerage services to major companies in many sectors, Knight Transportation is currently offering company driver positions ranging from van to flatbed to reefer to tanker to car hauling to transporting household goods. What makes this company even more unique than the range of positions under one roof, is the choice they also give their drivers in important areas such as pay and home time. Right from day one, new hires meet with the company's dispatchers to determine their overall objectives and individual priorities, and how the company can best accommodate their needs. Whether its long or dedicated runs, daily or weekly pay, how frequent they want to be home or specific dates they need to book off, Knight Transportation is known for going the extra mile to accommodate their employees just as they do their clients.
Retaining truck drivers is just as important as recruiting them and Knight Transportation firmly believes in promotion from within, developing their own talent and providing many additional incentives for their employees to stay. From mentoring programs that allow career growth in multiple directions to raised mileage pay every six months and quarterly bonus opportunities, the company truly leaves no other direction for their drivers to go but up. Knight Transportation also offers many additional long-term benefits such as 401K retirement plans, health, dental and vision packages, life insurance, disability insurance and FSA accounts as well. Driver safety is also key to the company's success, providing top of the line equipment, full service facilities and a higher ratio of dispatcher and operation support per driver.
In addition to being recognized as one of the best companies to work for, Knight Transportation continues to be a model for growth in the truckload industry. From revenues of $13 million in 1991 to over $730 million in 2010 and continuing to achieve 80 percent year after year, the company will certainly remain a top competitor offering today's best opportunities for truck drivers.