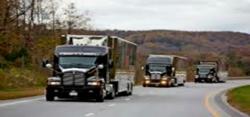 new york, New York (PRWEB) November 07, 2012
Not even the experts can predict just how much damage any storm will cause or how long the devastation will last and certainly nobody could have predicted the state of emergency putting the northeast coast to a halt. Already the trucking industry has reported a loss of $140 million per day during the storm and each day that business has gridlocked since. But fleet owners big and small have been going extra miles to answer their call of duty and industry regulations have even been modified to assist the relief effort as well.
The Federal Motor Carrier Safety Administration issued a regional emergency order lifting the restrictions of consecutive hours a truck-driver can operate. Effective until November 12th 2012, commercial vehicles carrying emergency-related materials to and in states affected by Hurricane Sandy are exempt from the federal hours of service rules. While there continues to be much grievance about relief effort delays similar to Katrina's, this exemption order has helped truck-drivers from all over the country get help on its way.
In addition to the 350 buses coming in to supplement New Jersey's transportation system, companies such as Restoration Hauling of Detroit has come to the rescue packing their flatbeds with everything from power generators to drying equipment to bottles of water. Even private trailer truck owners such as Wayne Piaggi have taken their own measures of relief effort by putting a call for donations on his facebook page to fill his truck full of supplies and driving it to New Jersey residents.
For those not under federal contract, many providing this much needed assistance are doing so right out of their own pockets. But experts such as Dr. John Gnuschke, director of the Sparks Bureau of Business and Economic Research, forecasts the hurricane recovery effort has sunny days for the economy and cites the exponential amounts of money many groups are expected to spend on rebuilding vital buildings and infrastructure.
Noel Perry, Senior Consultant of Freight Transportation Research Associates, agrees with the sunny outlook, especially the new demands created for the trucking industry. "Retail outlets need immediate resupply that only trucking's time-sensitive character can accommodate. Plus storm damage needs to be fixed. That creates longer-term additional freight tonnage."
For now the focus is still on the victims and devastation that remains, but at least for the trucking industry, there are sunnier days on the horizon.