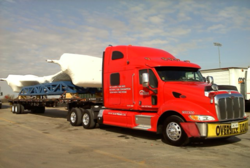 Fort Worth , TX (PRWEB) December 19, 2012
Beginning operations as a small Texas oilfield carrier in 1988, Lone Star Transportation, LLC has grown into one of the nation's premiere flatbed and specialized carrier companies. Its terminal service has expanded from its Texas headquarters to multiple full service operations throughout the country. With double drops, RGN's, stretch, multi-axle equipment hauling everything from oilfield and building materials, to construction equipment, to heavy machinery and even aerospace components, Lone Star has become the most diverse and versatile trailer fleet in the industry. Offering more than run of the mill truck driving jobs, the specialized carrier has grown its base of both contractor and company drivers to over 600 and continues to maintain one of the lowest driver turn over ratios in the entire country.
Now with a number of available positions for company drivers in Texas and across the US, Lone Star knows that recruiting drivers has become an almost bigger challenge than retaining them. Recognizing the immediate advantage of reaching an unlimited audience with established web sites such as TruckingUnlimited.com, Lone Star has gone on-line to offer the most lucrative truck driving positions in today's competitive industry. In addition to a much higher than average starting pay of up to .50 cents per mile (loaded or empty), the company also goes above and beyond with everything from an immediate $750 orientation pay, to stop-off pay, to no cost rider programs, to paid vacations, to health insurance and 401k plans. Lone Star's diversified specialized transport capabilities offers truck drivers a more interesting, multi-optional career path as well, but it also requires drivers to have at least one year of verifiable OTR experience and Texas is becoming an increasingly difficult place to find even that.
John Esparza, president and CEO of the Texas Motor Transportation Association explains what Lone Star and other companies are facing. "There is growing pressure to find qualified drivers and competition is heavy," he says. According to a 2012 study commissioned by the TMTA, two of three large trucking firms are planning to hire even more drivers in the coming year. The state of Texas has begun to aide this increasing truck driver shortage by providing community college grants to start training more drivers across the Eagle Ford Shale region. Not only will this allow low income qualifying applicants to attend basic skills classes at no cost, many Texas schools are offering tuition assistance for up to two of the technical certification classes as well.
In the meantime, Lone Star Transportation and other trucking companies must continue recruiting and retaining the best remaining candidates from the industry's shrinking pool of qualified applicants.