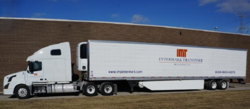 Mundelein, IL (PRWEB) February 15, 2013
Not only are more trucking companies becoming aware of the need to establish their on-line image with impressive company websites of their own, they also realize that appealing to today's drivers also requires taking it a step further and linking up to where today's job seekers often go – specialty job sites such as TruckingUnlimited.com. TruckingUnlimited.com has become a reputable and popular jobsite offering trucking employers the best of both worlds; a niche job board targeting a specific talent pool with the unlimited outreach potential of the Internet.
While Intermark has been providing superior transportation solutions for manufacturers and distributors across the U.S. since 1991, the company has recently partnered with TruckingUnlimited.com to answer their immediate need for new, yet qualified drivers. Offering their customers a wide range of value added truck load services including intermodal service, GPS tracking, team service, and temperature controlled shipping in 20 states across the northeast, Midwest, southeast, south and western parts of the country, Intermark is currently seeking both dry van and reefer experienced drivers to join their team in Florida, Illinois, Indianapolis, Missouri, Tennessee, Virginia and Wisconsin.
Voted the Best Family Values Employee Company in 2011 & 2012, InterMark is very much oriented towards team driving, especially husband and wife driving teams who want the convenience of regular schedules and more home time as well. As a service minded company they want their customers to rely on, InterMark extends the same benefits to their drivers with regular routes that have dedicated times for pick-up and deliveries. They also offer a very competitive package that will appeal to a number of today's drivers as well. This includes up to 60 cents per mile per team, weekly pay, matching 401K program, health benefits, optional dental and vision plan, paid vacations/holidays, late model tractors, I-Passes provided, generous payment scale for driver assist unloading and even a celebrate your birthday/anniversary program.
InterMark Transport also guarantees their solo drivers never feel alone when driving for their company. With a team of people on-side and committed to giving all drivers the consistent runs needed to earn well, along with the regular routine runs to insure regular home time, it can be a win-win situation for anyone driving for InterMark Transport. According to Jack Ozbourne, that is exactly what he has experienced driving for the company. "I love knowing I'm going to be home and don't need to request time off to get it," he says.