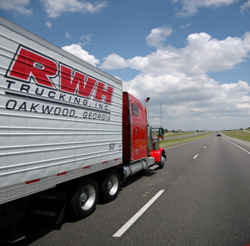 Gainesville, GA (PRWEB) April 24, 2013
Just as the Internet has evolved efficiency in many other areas of the trucking industry, it has revolutionized the recruiting process as well and with today's truck driver shortage challenging companies, RWH Trucking is among the many employers recognizing the need for specialized job sites such as TruckingUnlimited.com. With the simple objective of connecting today's talent pool with immediate on-line access to the best and most current truck driving positions across North America, TruckingUnlimited.com has become known as "one-stop on-line shop for trucking jobs", benefiting both applicants and employers. A strong example of how specialty job sites offer today's employers the best of both worlds; internet capabilities allowing immediate, unlimited exposure to a niche demographic of today's truck drivers, (who want immediate access to the best available jobs). TruckingUnlimited.com is proving to connect the needs of what the current truck driver shortage demands.
For refrigerated truckload carrier RWH Trucking, staying abreast of technology and incorporating it into all facets of their nationwide operation has been the driving strategy for success and recruiting with TruckingUnlimited.com fits right in to that approach. Already seeing the benefits computer technology has added to RWH's operational flexibility, logistic efficiency and business productivity, the company adds the latest equipment and HR strategies to appeal to today's best drivers as well. Equipment is constantly updated and upgraded says company dispatch manager, Chip Hall. "One of the great things about RWH Trucking is that the owner, Robert Howard, is really up on innovation and technology and likes to have all the 'bells and whistles' when it comes to computers, electronics, and equipment. We usually have the newest version as soon as it comes out," Chip explains.
Based in Oakwood, Georgia, a town of fewer than 3,000 people, the company's refrigerated fleet covers the lower 48 states, already logging millions and millions of miles. With major long-time customers that include: the Wrigley Company, Hershey Foods Corporation; Dreyer's Grand Ice Cream (which includes Edy's, Haagen-Dazs and Nestle brands); Wayne Farms, Pilgrim's Pride, and Mar Jac chicken; and Mohawk Carpets, RWH Trucking knows that a team of happy drivers is key to maintaining it all.
With little turnover among the company's drivers and owner operators, RWH attributes this to good equipment, compensation, and communications, and to continually striving to keep drivers content. "Our attitude is, it's only a problem if you make it a problem," says Hall.