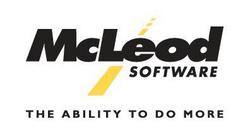 Birmingham, AL (Vocus) October 12, 2010
Today McLeod Software is introducing LoadMaster® LTL, a new product in the company's enterprise application software solution for transportation companies. LoadMaster LTL is a complete operations management solution for LTL trucking companies, and extends the company's LoadMaster enterprise application beyond the truckload carrier market that McLeod has served for the last 25 years.
McLeod has acquired the products, customers, and professional staff of Enterprise Information Solutions, Inc. (EIS) of Downers Grove, Illinois. Through the success of the EIS Transportation Solution Set™ (TSS), EIS has achieved a leadership position in the LTL trucking operations software market. This led Inbound Logistics Magazine to name EIS as one of the top 100 IT providers to the transportation, logistics and supply chain industries in 2006.
McLeod Software is integrating the EIS application software product with the company's flagship LoadMaster enterprise dispatch management system to allow McLeod customers to support a truckload operations model, an LTL operations model, or both operating models within the same enterprise.
McLeod's entry into the LTL marketplace with a fully functional enterprise management solution means that this underserved segment of the trucking industry will finally have a choice of solutions. LoadMaster LTL represents an opportunity for companies in the LTL segment to deploy a solution with a technical foundation and architecture that has a long future ahead of it.
'By bringing EIS's TSS product and their team into our organization, we have completed what is probably the most complementary acquisition we ever could have imagined,' says Tom McLeod, CEO and founder of McLeod Software. 'From a functional point of view, their products are a terrific extension for our current applications, and from a technology and systems architecture perspective, their development has been on a parallel path with ours for some years now. The threshold of integration for merging Transportation Solution Set into our existing LoadMaster enterprise product is extremely low.'
Both McLeod and EIS have built their products on open systems standards using the Java™ development environment. Additionally, both companies have architected their applications software products to support multiple operating systems, a diverse choice of database management systems, standard graphical user interfaces, and full integration with mobile communications.
Tom McLeod points to the benefits of these similarities, saying, 'LoadMaster LTL fits very well into our product line because it is a very logical addition to our LoadMaster enterprise product for truckload carriers, our PowerBroker application that supports brokerage operations, and our iLens application for freight management which is designed to manage 3PL operations.' McLeod further stated, "Adding key functions from EIS's Transportation Solution Set like cross-dock operations, LTL route and shipment optimization, phone center integration, dock/door management, and LTL rating optimization to our current product capabilities has instantly put us in a leadership position for the LTL market."
Marc Mitchell, EIS founder and Director of EIS's Transportation Practice, will join McLeod Software as the product manager for LoadMaster LTL. He is bringing along the rest of the employees of EIS who are now members of the McLeod team. He and his staff will continue to work from the former EIS Chicago office in Downers Grove, IL, which has become McLeod Software's new Mid-West regional office.
'By joining forces with McLeod Software, we are taking a quantum leap in what we are able to offer our TSS customers and the broader LTL marketplace,' says Mitchell. 'Our integration with the other elements of the McLeod application portfolio will allow us to offer a complete end-to-end enterprise solution for LTL companies, while at the same time bringing the resources, reputation, and financial strength of McLeod Software to bear for those customers. Both companies have the ability to share code within our products on day one, and there is no looming re-write of the entire product by one side or the other to achieve our full synergy and offer a genuinely integrated application.'
The introduction of LoadMaster LTL is consistent with the strategic direction McLeod Software has been pursuing over the years. By expanding McLeod's core enterprise application offering to support the LTL side of the industry, the company now offers a much broader range of the business management and operations management solutions that diversified transportation companies need.
McLeod Software is a leading provider of transportation, brokerage and document management systems. Specifically developed for the trucking industry, McLeod's advanced management solutions and services enable transportation companies to increase their efficiencies in all areas while reducing costs. McLeod Software's integrated best-in-class software products include LoadMaster X, LoadMaster LTL, PowerBroker™ III, DocumentPower™, HirePower™ and the iLENS™ product line. Founded in 1985 and headquartered in Birmingham, Alabama, the company serves truckload carriers, freight brokers and 3PLs throughout North America. For more information, contact McLeod Software toll free at 877-362-5363 or visit http://www.McLeodSoftware.com.
Media Contact:
Caroline Lyle
Director of Business Development
McLeod Software
205-823-5100 tel
205-823-0000 fax
###