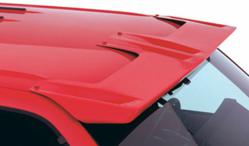 Clifton, NJ (PRWEB) March 05, 2012
BuyAutoTruckAccessories.com now offers STK ProVisor Truck Sun Visor that blocks harmful UV light from entering the vehicle. It protects the eyes from the sun while driving and keeps the interior of the truck cool in the summer. The truck sun visor can also be custom painted with each order to match the factory painted color of the truck.
Available for pickup trucks, vans, and SUVs, each visor is produced in the United States and can be custom fit for each vehicle. All STK truck visors will be manufactured in the U.S. by the end of 2012; this is intended to keep the costs of shipping down for consumers. The manufacturer is also intent on keeping jobs within the United States, lowering the costs and the resources associated with shipping items long distances, and protecting the environment.
The new sun visor installs on the exterior of the truck and features an aerodynamic design. It comes with a kit that includes all of the necessary mounting hardware, including caps and cover screws that can be painted to match the color of the visor and the vehicle. The ProVisor can be installed with an optional LED light kit that illuminates the assembly to make the vehicle stand out.
Bob Moore, Marketing Manager for BuyAutoTruckAccessories.com, said "Every driver likes a visor to keep the sun out of their eyes, but most are not as functional and attractive as the STK ProVisor. Not only does it help make driving more comfortable, but the visor can also be custom matched to make the vehicle look even better!"
The STK ProVisor is designed to fit to almost any truck, van, or SUV. It may not be compatible with certain aftermarket products such as sunroofs, roof antennas or lights, roof racks, or high top roofs on vans. This sun visor is ready to install as soon as it is unpackaged.
For more information and to purchase the ProVisor and accessories such as the optional LED light kit, visit http://www.buyautotruckaccessories.com.
About BuyAutoTruckAccessories
Providing top quality, discounted automotive accessories, BuyAutoTruckAccessories' courteous and knowledgeable Customer Service Representatives are available to answer any questions, any time, to guide customers in making the right purchasing decisions. The company sells various interior and exterior accessories for cars, trucks, vans, and SUVs, including sun visors, towing and cargo products, and emergency equipment. Same-day shipping is offered for most products within the continental United States, along with a 100% satisfaction guarantee.
# # #