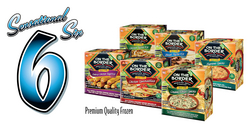 Dallas, TX (Vocus) July 15, 2008
Truco Enterprises is once again introducing Premium Quality products to the market. Truco Enterprises, the exclusive source of On The Border®brand of Southwest/Mexican retail food and drink mix products, is now bringing convenience home with its new selection of frozen dinners and appetizers.
Last Fall, Truco successfully ventured its On The Border Product line into the Southwest/Mexican frozen category with the Chicken and Steak Fajita kits. Due to consumer demand, the premium brand is now launching: Frozen Quesadillas, Taquitos, Supreme Queso and Creamy White Queso with Spinach.
On The Border® Quesadilla

The blend of Mexican and American cheeses has been carefully balanced to achieve the perfect Tex-Mex combination for an authentic Mexican flavor that is palatable to the American customer.
They then enhanced this bold cheese flavor with perfectly seasoned chicken cuts, peppers, onions, and a secret seasoning all enclosed by a flour tortilla that is crispy on the outside yet flaky and fresh tasting in order to achieve the perfect Premium Quality On The Border® Quesadilla.
On The Border® Deluxe Taquitos

The Premium Quality Taquitos are a complex mix of chicken, cheese, vegetables, and spices that are mixed in a carefully crafted proportion that provides a gourmet quality filling to an overstuffed taquito.
The portions and ratio of filling to tortilla is unparalleled, they are a meal on their own. The taquitos have 50 % more filling than the competitors and the filling quality and flavor are beyond comparison!
On The Border® Supreme Queso

The rich, intense American and cheddar cheese flavor coupled with a thick "dipable" texture provided by milk, cream and other ingredients describes the fabulous Premium Quality On The Border® Supreme Queso.
The flavor is enhanced by a mixture of beef and pork blended with a special seasoning mix and vegetables such as tomatoes, onions, and peppers resulting in a queso that you just cannot stop dipping your chips into…. over and over again.
On The Border® Creamy White Queso with Spinach

The perfect blend of Monterey Queso and the finest Spinach combined with Chipotle Peppers gives this Premium Quality Spinach Queso a rich and hearty taste.
The Queso comes in a ready to serve bowl, all you have to do is microwave and serve.
OTB Premium Quality Frozen dinners and appetizers are available nationwide and can also be ordered by contacting Dawn Grosvenor at otbfrozen@truco.com, or 1-800-471-7723, ext. 355.
###