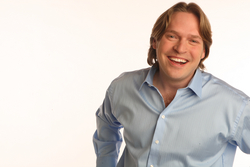 Tru coaching offers a totally new way for men and women to approach dating.
San Francisco, CA (PRWEB) April 14, 2010
The brainchild of San Francisco-based entrepreneur, Matthew Crowe, Tru Coaching is an exclusive new dating and social life coaching program designed for men and women.
Combining techniques from the burgeoning personal-development field and the best practices of the top dating and matchmaking services, Tru helps participants find deeper happiness in their social lives by first leading them to a deeper understanding of themselves.
Tru Coaching pairs participants with a personal "Tru Coach," who works with them on lifestyle, social life and personal brand management. Tru coaches are experts in the areas of human behavior, psychology, social dynamics and gender communications.
After this process, Tru's coaches take participants under their wing for a fun and informative night on the town, where they work side-by-side to put their new skills to work meeting new people and navigating the dating scene.
Tru Coaching founder, Matthew Crowe, is an author, blogger, public speaker, world traveler and real-life "Hitch," with a background and interest in business and philosophy.
"I've always had an interest in helping people discover their true authentic selves, which is why I got into personal coaching; work that has been very fulfilling and successful," says Crowe. "This led me to develop the Tru Method, and launch Tru Coaching - which offers a totally new way for men and women to approach dating."
Tru Coaching provides a range of package offerings – from introductory seminars to Tru's exclusive Executive Coaching package, which offers a weekend-long personal coaching session and dating support with a private coach, anywhere in the world.
Visit TheTruMethod.com or email info(at)thetrumethod.com for additional information or to become a client.
About Matthew Crowe:
An entrepreneur since age 16, Crowe has been director, founder, partner, board member and CEO of various businesses from marketing, internet start ups, consulting, venture capital, commercial real estate and construction. Crowe developed the Tru Method and launched Tru Coaching in 2010. He is also the founder of Huckleberry, a technology-based crowdsourcing model.
###