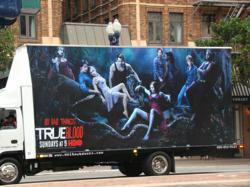 There are also financial differences that vampires encounter which aren't always so apparent.
Los Angeles, CA (PRWEB) June 16, 2013
The season six opener of HBO's True Blood series airs on June 16 at 9:00 P.M. PST, reintroducing viewers to the love triangle between True Blood's Bill Compton, Eric Northman and Sookie Stackhouse. While the show's characters are based on the supernatural, the series takes place in the real world where human concerns like balancing bank accounts, paying the mortgage, and other financial anxieties exist.
GoBankingRates.com explores the cost of living for supernatural beings like vampires and faeries and finds there are some disadvantages, but more importantly, there are many financial advantages they receive from their special abilities. These benefits are particularly pronounced when compared to the average living human's cost of living.
"The unique restrictions that Bill and Eric face as vampires, like their nocturnal bedtime hours are a far reach from what everyday human beings have to contend with," says Jennifer Calonia, editor for GoBankingRates.com. "But that's not the only difference between the two -- there are also financial differences that vampires encounter which aren't always so apparent."
The report finds that some influencing factors affecting True Blood vampires' cost of living include:
1. Futuristic Food
Staying on the up and up when it comes to food can be financially challenging for vampires, according to the investigation. For vampires who choose to "mainstream" by drinking synthetic blood instead of human blood the costs are extreme. While the series doesn't explicitly state how much a bottle of artificially-made Tru Blood costs, the report reveals that a 24-pack of the replica version costs a pricey $96.
2. Immunity and Self-Healing Capabilities
Aside from Hepatitis D, which temporarily incapacitates a vampire's strengths, blood-suckers have no real need for health care. No heartbeat, no brainwaves, and no electrical impulses means no wasted money on health care compared to the $7,960 annually spent by Americans, according to Forbes.
3. Glamouring
An age-old talent of vampires in the True Blood series, the report cites Bill and Eric's ability to glamour their victims into doing anything they want. "If they are truly desperate for money, they don't have to worry about having their own savings account -- instead, they can make humans fulfill their financial needs," says Stacey Bumpus, GoBankingRates.com contributor and lead reporter for the investigation.
In addition to investigating the cost of living for Bill and Eric, the report goes further and assesses half-faerie Sookie Stackhouse's more human-like living arrangements, uncovering that her cost of living is significantly greater than her vampire counterparts.
See the full True Blood cost of living investigation:
http://www.gobankingrates.com/banking/vampires-need-banks-cost-of-living-true-blood/
For questions about this report or to speak with a GoBankingRates.com editor, please use the contact information below.
About GoBankingRates
GoBankingRates.com is a national website dedicated to connecting readers with the best interest rates on financial services nationwide, as well as informative personal finance content, news and tools. GoBankingRates collects interest rate information from more than 4,000 U.S. banks and credit unions, making it the only online rates aggregator with the ability to provide the most comprehensive and authentic local interest rate information.
Additionally, GoBankingRates.com partners with a number of major media outlets such as Business Insider and US News & World Report to provide compelling and edifying personal finance content. Its expert editors have been featured and quoted on several premier finance websites like Yahoo! Finance, Forbes, The Street, Huffington Post and more.
Learn more at http://www.gobankingrates.com/.
Contact:
Jaime Catmull, Director of Public Relations
GoBankingRates.com
JaimeC(@)GoBankingRates(dot)com
310.297.9233 x261
###
Source: Forbes, "How Much Should We Spend on Health Care? The Big Picture," November 2011.
Image by vagueonthehow / Flickr Creative Commons