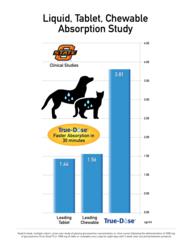 With only 30 minutes for peak absorption, True-Dose ensures that pets get the full benefits from the nutrients.
St. Louis, MO (PRWEB) May 14, 2012
A recent article in the NCPA's America's Pharmacist magazine observed that animal health care is a growing market in the United States. From celebrating pets' birthday to pet hotels, people are spending more and more on their animals and health care is no exception. It's not uncommon for people to pay $300-400 a month on their pets' medications. Many pharmacies are finding that pet health products to be a profitable business that compliments their current focus. Pet owners coming to the pharmacy to pick up their own prescriptions appreciate the convenience of also picking up their pets' prescriptions from the same place.
Since 1997 FLAVORx Veterinary system has been helping pets to take their medications. FLAVORx is compounded with pets' medication to create a flavored liquid form of the medication that is easier for owners to administer. The liquid form of the medication can be easily mixed with food or a pet's favorite treat instead of trying to force them to take a pill.
Like FLAVORx, True-Dose has chosen to provide pharmacies with high quality health solutions for their customer's pets. True-Dose provides human pharmaceutical grade liquid flavored supplements for pet needs ranging from Calming to Joint Care. Since True-Dose comes as a flavored liquid, pets are absorbing and consuming 100% of the ingredients. Due to the variety in dog breeds and sizes, administering the correct dosage can often be a struggle for pet owners. True-Dose makes managing pet supplements simple with a patented delivery mechanism designed for the pharmaceutical industry. The unique pump ensures a precise, measured amount of concentrated liquid, based on the pet's weight, is dispensed each and every time to provide accurate and consistent dosing.
When tested by Oklahoma State University, True-Dose was found to have a higher absorption rate than the leading competitors. With only 30 minutes for peak absorption, True-Dose ensures that pets get the full benefits from the nutrients. Visit truedosepets.com to view the full range of products.
About True-Dose
True-Dose uses patented technology to provide your pet with a higher level of quality in nutritional and functional supplements. Our supplements are manufactured in a human pharmaceutical facility, following the same strict testing and quality standards mandated by the FDA for state of the art pharmaceutical product manufacturing. True-Dose is an industry leader in maintaining standards to ensure the quality and safety your dog & cat deserve.
About FLAVORx
FLAVORx has been helping pets take their medicine since 1997. The FLAVORx Veterinary Flavoring System is available in thousands of veterinary clinics and pharmacies across the U.S. Using FLAVORx's proprietary flavoring recipes, veterinarians and pharmacists have safely flavored millions of prescription and over the counter medications making it easier for pets of all shapes and sizes to take their medicine and for their owners to administer it.