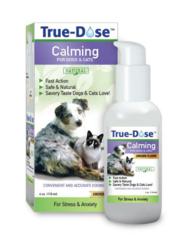 True-Dose uses patented technology to provide your pet with a higher level of quality in nutritional and functional supplements.
St. Louis, MO (PRWEB) August 03, 2012
True-Dose is partnering with Petfinder Foundation to support their efforts to find good homes for shelter pets by donating $100,000 worth of True-Dose pet supplements. True-Dose produces liquid supplements for pets ranging from Calming to Wellness. True-Dose has become a trusted name in pet care supplements and is excited for the opportunity to share their products with Petfinder Foundation.
Petfinder Foundation provides direct funding, training, and education for Petfinder.com so they can help pets in shelters to find homes. As the #1 visited pet site on the web, Petfinder.com has proven uniquely capable of championing the cause of animal adoption and wellness. Their organization has done great work for pets by using technology to increase the effectiveness of pet adoption programs across the country. Businesses or companies that want to become a member of Petfinder Foundation must meet specific standards set by the organization.
Petfinder Foundation has made it their goal to eliminate the practice of euthanasia by supplying prospective pet owners the quality information they need to give deserving pets a loving home. Approximately 3 to 4 million pets are euthanized in shelters each year. Petfinder Foundation is working to decrease this number by increasing public awareness of the availability of high-quality adoptable pets. From the comfort of their personal computers, pet lovers can search for a pet that best matches their needs from a database of thousands of animal shelters. True-Dose is proud to be working side-by-side with Petfinder Foundation in order to provide 40 shelters across the US with True-Dose's quality pet supplements.
About True-Dose
True-Dose uses patented technology to provide your pet with a higher level of quality in nutritional and functional supplements. Our supplements are manufactured in a human pharmaceutical facility, following the same strict testing and quality standards mandated by the FDA for state of the art pharmaceutical product manufacturing. True-Dose is an industry leader in maintaining standards to ensure the quality and safety your dog & cat deserve.
About Petfinder Foundation
The Petfinder.com Foundation helps support thousands of animal welfare organization that are members of Petfinder.com. The Foundation provides direct funding as well as training and education and grants of equipment and supplies so that hundreds of thousands of homeless pets have happier lives and so that the thousands of shelter and rescue folks who work with them can better perform their jobs.