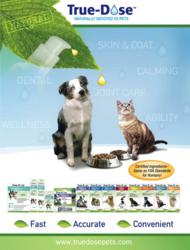 True-Dose Calming gives anxious shelter pets a better chance of finding a forever home.
St. Louis (PRWEB) November 05, 2012
True-Dose, the creator of precise dosing, quality pet supplements, will be donating their products to animal shelters across Missouri and Illinois. With the addition of these product kits, the total amount donated to shelters nationwide will surpass $100,000. The shelters receiving the donations were chosen with the help of the PetFinder Foundation.
One of the most popular True-Dose products, Calming, is proving to help make a big difference for these sheltered pets. "The relief this product can offer to anxious shelter pets will give them a greater chance of being adopted," said Toni Morgan, Petfinder Foundation Senior Program Manager. "We're delighted that True-Dose stepped forward to make this donation."
True-Dose has been searching for the right opportunity to make a donation for some time, and with the help of Toni Morgan from the PetFinder Foundation, they were able to select over 20 animal shelters to each receive more than a dozen bottles of True-Dose products.
"There is no special occasion for the donation to PetFinder Foundation," said Trish Richter, True-Dose's Director of Marketing. "We simply respect the tremendous efforts of this great organization, and we want to help support optimal health for the numerous pets living in these shelters, as well as a smooth transition to their new ' forever homes'."
True-Dose has been clinically proven to have a faster absorption rate and higher peak concentration than tablets and chewables in a head to head, crossover study conducted by the Oklahoma State University Veterinary Animal Science and Research departments. The founders of True-Dose have long had the goal of providing quality, pharmaceutical-grade products to our four-legged friends, and with this donation they will be providing just that to some of the neediest animals out there.