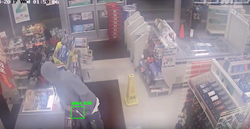 "we believe morally responsible and privacy-conscious development of computer vision capabilities from US-based companies is a must. The future is bright for Trueface because of their cutting edge technology and commitment to setting the ethical standard for others to follow."
LOS ANGELES (PRWEB) August 07, 2019
Today Trueface, a US-based leader in computer vision, announced a $3.7 million seed funding round led by Lavrock Ventures with participation from Scout Ventures and Advantage Ventures. Utilizing machine learning and artificial intelligence, Trueface augments camera data into actionable intelligence. This technology is making both public and private environments safer and smarter. The market for computer vision is expected to grow to a value of $48.32 billion by the end of 2023, up from $9.28 billion in 2017.
Trueface's list of partners who are benefiting from computer vision deployments spans multiple industries. Casinos use Trueface's age detection to ensure that those on the gaming floor are of legal age, thereby reducing the pressure of security teams and allowing them to focus on more important tasks. The United States Air Force has partnered with Trueface to enhance base security through smarter access control.
Schools are becoming safer places for students and faculty when an alert can be sent automatically after a gun is detected in a camera feed. Retailers are increasing the efficacy of self-checkout kiosks when they are able to automatically detect if purchasers of restricted items are above a given age. While vast, the common thread of these use cases lies in the ability of Trueface's solutions to augment the efficiency and productivity of security teams and employees.
Steve Smoot of Lavrock Ventures says "we believe morally responsible and privacy-conscious development of computer vision capabilities from US-based companies is a must. The future is bright for Trueface because of their cutting edge technology and commitment to setting the ethical standard for others to follow."
Brendan Syron of Scout Ventures explains, "with the proliferation of CCTV security systems, Trueface's computer vision technology can readily be deployed across businesses, schools, and public venues to enhance safety responsibly, without impeding upon people's privacy."
The Trueface team designed the company's technology with data privacy at its core. By implementing blurring and fleeting data in appropriate deployments, the personal data of those who have not opted-in is never recorded. Trueface's SDKs and dockerized container solutions are hardware agnostic, running on almost any infrastructure. All client deployments are on-premise, which increases data security, speed and overall performance.
"This round of funding will help us expedite our efforts in making computer vision affordable, effective and trustworthy," says Shaun Moore, CEO of Trueface.
With this raise, the Trueface team will concentrate on making its computer vision solutions plug and play, opening up the market for even those who are non-technical or don't have engineering resources to benefit from their solutions. The team will also look to hire in key positions to help grow its customer base.
About Trueface
Trueface is a computer vision company that transforms partners' video feeds into intelligent, actionable data. Industries deploying their advanced facial recognition technology in a morally responsible way include retail, hospitality, healthcare, gaming and financial services.