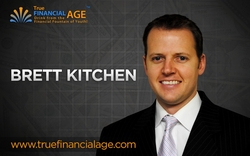 Invest In The Stock Market Now? NO! Safe Money Is Now Sexy as Millions of Consumers (and billions of dollars) Leave the Market for Security.
Salt Lake City, UT (PRWEB) September 27, 2010
Brett Kitchen and Ethan Kap have just launched a free website tailored to the masses of consumers fleeing Wall Street for safer, more secure places to invest their hard earned money during these troubled economic times. This safe money website uses a video to educate people on a forgotten, 200 year old financial tool America's finances were built on from the 1930's to the 1980's.
People will discover how this little known strategy can give them guaranteed rates of return every year, immense tax advantages during retirement, create passive income for life, and much much, more! For many people, this financial instrument may be the solution to their concerns with finances.
Consumers can watch the eye-opening safe money video on Kitchen and Kap's interactive financial planning website FleeWallStreet.com. People can now chat live on the website for no cost and no obligation with a certified financial specialist to get their questions answered immediately.
"After seeing all the recent news stories of people pulling their money out of stocks and mutual funds – without really knowing where to put it to maximize safety and growth, we knew we had to help these people," said Brett Kitchen, co-founder of FleeWallStreet.com.
"Early retirement with enough money to live the kind of life we all dream about is still possible. The solution is easier than most people realize, and it can be accomplished even in our current economy," said Kitchen.
For more information visit FleeWallStreet.com or call Brett Kitchen at (801) 693-1677.
About Insurance Advocates, LLC
Co-founded by Brett Kitchen and Ethan Kap, Insurance Advocates, LLC is a company dedicated to helping consumers achieve the American Dream of retiring early with enough money to live the lifestyle they choose. They teach little-known wealth building strategies that don't expose people's money to the risk and taxes associated with the most common retirement choices.
Contact:
Brett Kitchen
Founder
Insurance Advocates, LLC
(801) 693-1677
http://FleeWallStreet.com
# # #