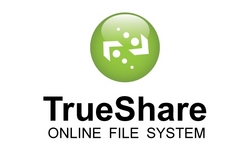 While there were many compelling synergies between TrueShare and The KC Irish Fest, the most relevant was that of community. TrueShare interprets the position of
Overland Park, KS (PRWEB) August 27, 2009
TrueShare.com, a leading provider of online file storage and sharing, is proud to announce its sponsorship of the Kansas City Irish Fest and the promotion of recycling and going green. The Kansas City Irish Fest is a not-for-profit organization dedicated to the culture, music, and history of Ireland and the Irish population of Kansas City. It is also committed to the environment and the community it thrives in and is excited about the TrueShare.com sponsorship of recycling efforts at the festival.
In an effort to keep the streets clean and promote a more environmentally friendly event, TrueShare
recycling street-stickers will be placed throughout the festival to bring awareness and lead festival goers to the many recycling bins spread throughout the event grounds.
When asked why TrueShare felt that the KC Irish Fest was a good match for its sponsorship, founder and CEO Eric Matt replied "While there were many compelling synergies between TrueShare and The KC Irish Fest, the most relevant was that of community. TrueShare interprets the position of "Go Green" as making decisions with consideration to our environment and our community and the KC Irish Fest shares these beliefs."
The TrueShare.com online file system offers a wealth of features for storing, accessing, managing, and sharing your computer files, including collaborative tools and versioning features so you can easily work together with anyone from anywhere in the world, without printing on a single piece of paper. Even common activities such as sharing endless pictures with family and friends can be accomplished via TrueShare and its PhotoShare widget. It's an innovative file system for businesses and the business minded, and for friends of the environment.
Look for TrueShare at the Kansas City Irish Fest, and be sure to snag a free "Go Green" t-shirt from the TrueShare team. For more information about TrueShare and the Kansas City Irish Fest, visit trueshare.com and kcirishfest.com. And don't forget to recycle!
About TrueShare:
TrueShare (http://www.trueshare.com) provides file storage, file management, and file sharing solutions to thousands of customers worldwide with their online file system. With no limits on file size or type, TrueShare enables individuals and businesses unlimited access to their files from anywhere, at anytime. The TrueShare online file system is compatible with all major operating systems including Windows, Mac, and Linux, and is accessible from all major web browsers including Chrome, Firefox, Internet Explorer, and Safari. TrueShare is developed by SYSTEN L.L.C. (http://www.systen.com) which is headquartered in Overland Park, KS.
Contact:
Eric Matt
877-700-4999
eric (at) trueshare (dot) com
###