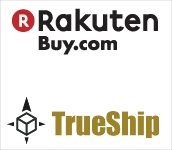 Scottsdale, AZ (PRWEB) October 31, 2012
Ecommerce is going to skyrocket again this holiday season. Make the most of it. Join Buy.com and TrueShip for a special holiday webinar that delivers valuable strategies from ecommerce to fulfillment.
What you can expect:

Multi-channel marketing for the holidays
Using multiple marketplaces to increase brand awareness, customer base and sales
Turning holiday customers into repeat customers
Deliver better customer service for less
Successful fulfillment strategies for the holiday spike
Success stories. How they did it.
Our experts will identify ecommerce pain points common to the holidays and deliver strategies to turn them into strengths.
Join Buy.com and TrueShip for this FREE webinar on Wednesday, November 7th at 11am Pacific for a bigger, better holiday season.
See also: http://www.trueship.com/demo-times
Buy.com Rakuten strives every day to build a platform which delights customers and creates value for merchant partners. Buy.com continuously leverages their leadership in technology, merchandising, and customer service, to deliver an experience which empowers Seller Partners to drive an unparalleled customer experience. Buy.com recognizes one of the fundamental keys to success lies in enabling and unlocking the full potential of each seller. These fundamentals are at the core of their parent company, Rakuten and have helped to power their metoric rise to global recognition and fame. This Seller Empowerment philosophy is woven into every fabric of the business and is clearly evident from Merchant Stores, to innovative seller tools, and merchandising programs.
TrueShip is a Scottsdale, Arizona, based company. TrueShip is committed to developing best of breed shipping software and product returns solutions designed to complement today's popular ecommerce, accounting and order management systems.
TrueShip's core product line includes ReadyShipper and ReadyReturns. Designed for the small and mid-sized business, these subscription-based services can stand on their own or be combined to create a powerful outbound and return shipping software suite. Each is Mac and PC compatible and built around the TrueShip philosophy that shipping software must be quick to implement, easy to learn and expandable with the needs of the business.
TrueShip software delivers enterprise-level shipping efficiency that any business can afford. For more information look to http://www.trueship.com or contact us directly at 877-818-7447.