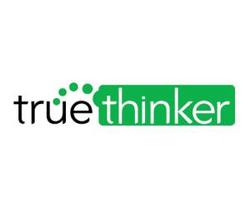 TrueThinker is the product of 40 years of AI-related research
Buffalo, NY (PRWEB) December 20, 2007
You're on a mission, collecting info from documents, old emails, obscure websites and arcane blogs for your latest report on the state of global warming. In the past, you gnashed your teeth over the task. But today, you're smiling because you're using TrueThinker™, a new online tool that makes learning and sharing information about any topic easier and faster because it actually learns how you manage information.
Available today at TrueThinker.com, TrueThinker

automatically categorizes your website links, after its patented Artificial Intelligence (AI) technology called the "AutoGnome™" learns about what data you save and how you organize it;
helps you manage files, RSS feeds, links, images and more and;
allows you to share knowledge easily with -- and learn from -- communities of people interested in the same topics you are, whether football, crystallography or allergies.
The TrueThinker experience includes these features:

My TrueThinker webpage, a dashboard or homepage that you can personalize as your portal to the Internet.
My KnowledgeBank, where you can manually, or your AutoGnome can automatically, store your relevant and valued information so you can find it easily.
My Communities, where you can join or create groups of people with the same social, business, research or other interests to share resources and hold public or private discussions.
What's more, you can access TrueThinker and your organized bookmarks and files from any computer, making your accumulated knowledge on just about anything accessible from anywhere.
"TrueThinker is the product of 40 years of AI-related research," said William Dale Koehler, president and CEO of As It Is, Inc., the company that created TrueThinker. "The result of that research is a time-saving, frustration-reducing Internet tool that learns from your use. Ultimately, individual users can start to train a virtual replica of themselves that finds relevant information for them in that vast world of data we commonly call the Internet."
A year-long subscription to TrueThinker costs $24.95. Sign up at TrueThinker.
Formed in 1999, As It Is, Inc., is an intellectual capital development and holding company. The company operates out of the State University of New York (SUNY) University at Buffalo's Technology Incubator in Amherst, N.Y., and has additional labs in Connecticut, Pennsylvania, Maine and Sao Paulo, Brazil. To find out more, visit As It Is, Inc..
Background
TrueThinker is a new Internet tool created by As It Is, Inc., and is available today at TrueThinker.com. TrueThinker arises from 40 years of Artificial Intelligence (AI) related research that will influence the evolution of the Internet far beyond its current state.
Through general Artificial Intelligence, TrueThinker helps Internet users efficiently save, organize, and share their documents and website links. TrueThinker learns by studying what users save and how they organize information, using a patented AI application called the AutoGnome™.
The current version of TrueThinker has three prime components -- My TrueThinker, My KnowledgeBank, and My Communities. These each allow users to organize and manage all of the website links, as well as files, that they wish to store, or to share with their Communities.
TrueThinker delivers three key capabilities: knowledge organization (learning), knowledge creation (thinking), and knowledge applications (acting). With its unique and novel AutoGnomic foundation for these functionalities, TrueThinker will evolve into the ubiquitous product that will transform the computer into an effective learning, thinking, and acting machine.
The My TrueThinker webpage serves as a Daily Dashboard or homepage that users can personalize as their portal to the internet. The My KnowledgeBank page is where users manually or automatically -- via their trained AutoGnome -- store their selected relevant and valued information for easy retrieval. The My Communities page is where users join or organize groups of people with the same social, business, research, or other common interests in order to share resources and hold discussions, publicly or privately.
Because TrueThinker users can create their own private or public communities to collect and share information, users:

More easily and quickly increase knowledge in their areas of interest.
Access their TrueThinker-organized bookmarks and files from any computer.
Users can organize their bookmarks and files, and they can access these from any computer. As they use the AutoGnome, TrueThinker's underlying technology learns how they organize and classify information, so that TrueThinker can do this for users after an appropriate learning period. TrueThinker users can build online communities to organize and share knowledge.
TrueThinker is not a search engine. It is a means for Internet users to organize and personalize how they use the information they can acquire from -- and share on -- the Internet.
A major difference between the AutoGnome and most other AI-based Internet applications is that the AutoGnome creates its own knowledge structure without human intervention. Most other AI Internet knowledge management applications require that humans develop a data structure before they are useful.
Today, "semantic web" is considered the next state of the art for new Internet tools. The term "Artificial Intelligence" also is used in regard to new Internet tool development. As TrueThinker evolves through its planned versions over the next few years, the semantic web will be but one level of AI functionality.
With TrueThinker, the evolution of the Internet might look like this, where the AutoGnome is the technology that will enable Web 7.0:
Web 1.0 > 2.0 > 3.0 > 4.0 > 5.0 > 6.0 > 7.0
1. Web 1.0 - Syntactic Web. Has been available for several years.
a. The "original" Internet. Deals with the structure of symbols.
b. No automated tools for sharing knowledge.
c. Searches based on spelling or structure.
2. Web 2.0 - Syntactic-based Social Web (e.g., MySpace, Facebook & LinkedIn). Available now.
a. Social networks enable sharing of information, but still are based on the Syntactic Web.
3. Web 3.0 - Semantic Web (the current hype for new search tools such as Hakia or Twine). Available mostly in Beta form now.
a. Includes Web 2.0 features, plus the ability to seek and organize information based on meaning, rather than just structure.
4. Web 4.0 - Semantic-based Social Web. Future availability.
5. Web 5.0 - Pragmatic Web. Future availability.
a. Internet information searched and organized based on the context of information usage.
6. Web 6.0 - Pragmatic-based Social Web. Future availability.
7. Web 7.0- AutoGnomic Web. Available now in early form through TrueThinker.
a. The AutoGnomic Web holistically incorporates the Syntactic, Semantic, and Pragmatic functionalities and anticipates a new computing paradigm.
Here is a definition of the Pragmatic Web -- Web 5.0 & 6.0 -- from Wikipedia:
"The Pragmatic Web consists of the tools, practices, and theories describing why and how people use information. In contrast to the Syntactic Web and Semantic Web, the Pragmatic Web is not about form or meaning of information. The transformation of existing information into information relevant to a group of users or an individual user includes the support of how users locate, filter, access, process, synthesize, and share information."
TrueThinker's AutoGnome technology incorporates Pragmatic Web 5.0, and Pragmatic Social Web 6.0 features, and delivers the benefits of Web 7.0, the AutoGnomic (Semiotic) Web. The present goal of As It Is, Inc., is the creation of Web 7.0 through a Pragmatic Action Methodological approach to both a Synthetic Mind and Virtuality. This is called the AutoGnomic Intellisite™.
This is seen as potentially more useful to the majority of Internet users than is expected from the current research being conducted by other developers of Artificial Intelligence tools. Non-AutoGnome-based AI tools restrict other researchers by the absence of a standard theory of mind.
Those wanting to experience the power of TrueThinker can do so free and at no risk by visiting http://www.TrueThinker.com.
# # #