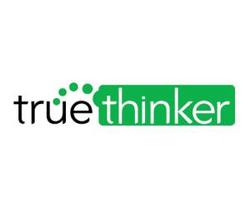 Buffalo, NY (PRWEB) November 20, 2007
As it Is, Inc., has retained the services of marketing, advertising, and public relations agency eXubrio Group LLC to launch its new artificial intelligence (AI) web application, TrueThinker. eXubrio Group is developing a marketing and public relations program that will ensure a successful launch.
Using artificial intelligence, TrueThinker helps Internet users efficiently save, organize, and share their web site links. TrueThinker learns by studying -- through the use of an AI application called the AutoGnome™ -- what users save and what they discard. TrueThinker has three prime components -- My TrueThinker, My KnowledgeBank, and My Communities. These each allow users to organize and manage all of the website links, as well as files, that they wish to share with their Communities. TrueThinker users can create their own private or public Communities to collect and share information.
The benefits of using TrueThinker to collect and share information include:

Users more easily and quickly increase knowledge in their areas of interest.
Users access their TrueThinker-organized bookmarks and files from any computer.
TrueThinker will move from its Beta test phase to the launch of its first commercial version at the end of November. During the following 12 months, the TrueThinker will develop through several stages, constantly increasing the benefits users receive from its artificial intelligence platform. Users who subscribe to TrueThinker during this time will receive a 30-day risk free trial. After 30 days, the cost for a one-year subscription will be only $24.99. Through the TrueThinker referral program, subscribers who refer TrueThinker to new subscribers will receive $12.50 per user, when the user pays for a subscription.
As it Is, Inc., is a private corporation with an office at the State University of New York (SUNY), University at Buffalo, Baird Research and Technology Park. As it Is has assembled a portfolio of technologies and related intellectual property to create an artificial intelligence technology platform. TrueThinker is the company's first commercial application.
Paul McAfee will serve as interim Chief Marketing Officer during the first year of the TrueThinker launch. In this role, he will manage new product development, sales, PR, and marketing. His agency, eXubrio Group LLC, will provide the primary marketing services, including website optimization, viral marketing programs, public relations, and market research.
For more information about TrueThinker, an a 30-day free trial, visit TrueThinker. For more information about As it Is, Inc., visit As it Is
For more information about eXubrio Group LLC, visit eXubrio Group.
###