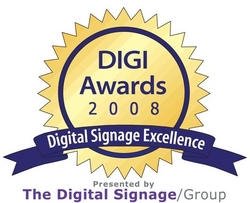 The accurate determination of viewer dwell time is critical to the creation of impactful content for our Smart Screens
Tampa, FL (PRWEB) February 27, 2008
The Digital Signage Group, a solutions based digital signage distributor, has announced the winners of the 2008 DIGI Awards. In the best product/service category, TruMedia won the award for best product/service for its iCapture audience measurement solution used on the Adspace Mall Networks' "Smart Screens" in 3 US Malls.
The DIGI Awards honor outstanding performance in the digital signage industry, and are the only industry awards that recognize the outstanding resellers, dealers and integrators of digital signage. Winners were selected from over 100 entries submitted. Fourteen awards were presented in total, in seven categories: Retail, Corporate, Entertainment, Education, Healthcare, Public Venue and Judges' Choice.
"We are pleased to have won this award," said George Murphy, CEO of TruMedia. "TruMedia is dedicated to providing leading and innovative audience measurement solutions to the digital signage industry. I believe that this award not only honors TruMedia's excellence in the field, but also gives recognition to the importance of automated measurement solutions for digital signage in general."
TruMedia installed its iCapture audience measurement solution for digital screens on 6 of Adspace's screens in 3 different malls across the USA including Hanes Mall in Greensboro DMA, Chesterfield Mall in St. Louis DMA and Monroeville Mall in Pittsburgh DMA.
The iCapture Ultra Cam, a unique high-resolution, wide dynamic range camera is placed above each Adspace screen and oriented towards the audience. Viewers' faces are analyzed in real-time by the iCapture video processor to yield business-critical information such as true "face towards" counts and individual exposure times. Further real-time classification algorithms determine the viewer's gender and age group.
"The accurate determination of viewer dwell time is critical to the creation of impactful content for our Smart Screens," said Bill Ketcham, Executive Vice President of Adspace Networks. "The TruMedia technology has been instrumental in giving us this deeper consumer insight."
TruMedia is fully respectful of the audience's privacy: no images are ever recorded, and no uniquely identifiable data are extracted.
About TruMedia
TruMedia Technologies Inc (http://www.tru-media.com) is the leading provider of real-time audience measurement solutions. TruMedia's advanced automated imaging systems deliver accurate viewing measurements for out-of-home advertising on posters, digital signs, TV monitors, display windows and in-store product displays.
Addressing the digital signage, in-store advertising and out-of-home TV markets, as well as product display in windows and point of purchase locations, TruMedia builds upon proprietary video analytics technology developed during the past 5 years within the homeland security industry, to detect and track viewers' faces in order to measure true visual exposure to media and merchandize.
TruMedia's audience measurement solutions generate true, real-time viewing data for displays by analyzing face images of people watching the displays. TruMedia's proprietary, video analytics technology automatically detects and tracks faces captured by high-resolution or WDR cameras. With iCapture™ for digital display and iCapture Mini™ for miniature digital displays, viewers' face images are analyzed in real-time to yield business-critical information such as audience counts, attention span and demographic segmentation based on gender and age group.
Proactive merchandising is also made possible using TruMedia's PROM feature, an Application Programming Interface (API) which enables iCapture to interface with leading content delivery management systems. Using the PROM feature, data generated by iCapture can be used in a proactive manner to tailor digital signage messaging to specific demographics or to audience behavior in real-time.
When combined with the data provided by iTally™, an Opportunity to See people counter, the number of people who passed by any given display can be compared with the number of people who actually watched the display to calculate audience impact ratios.
About Adspace Networks
Adspace Networks, Inc. (http://www.adspacenetworks.com) owns and operates the Adspace Mall Network, the largest in-mall digital video advertising network in the country. Currently located throughout more than 100 Class A malls across the United States, the network consists of over 1,300, eight and nine-foot-tall plasma screens- called "Smart Screens." The Smart Screen displays show programming which combines a mix of the top ten sale items in the mall, mall events, and local and national advertising. The network reaches 100 million affluent (source: Directory of Major Malls®) consumers each month, and is particularly effective at reaching teens, young adults, and women. Adspace is also a charter member of the Out-of-Home Video Advertising Bureau (OVAB), an organization that will help provide standards and best practices for the burgeoning out-of-home video advertising industry.
About The Digital Signage Group
The Digital Signage Group is a sales and marketing company devoted to providing a comprehensive line of digital signage products and services to Integrators and Service Providers. The Digital Signage Group (TDSG) has defined its role as a facilitator for the creation and execution of an end to end digital communications network. We are focused on providing project consulting and coordination, constructing project teams, and providing a comprehensive line of specialized software and hardware solutions. TDSG also co publishes the Digital Signage Resource Directory and The Digital Signage Quarterly. For more information, visit http://www.tdsg.net.
###