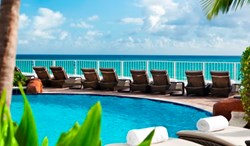 Sunny Isles Beach, FL (PRWEB) February 20, 2014
Looking for the perfect location for an upcoming commercial or fashion photo shoot in South Florida, but wanting to avoid the hustle and bustle of South Beach? Look no further than Trump International Beach Resort. The 2014 Forbes Four-Star resort is offering unique packages for photographers, production companies and other like businesses to help facilitate upcoming photoshoots.
"We offer a premier location on Miami Beach without the crowds that South Beach garners during this time of the year," said Susan Boone, Director of Marketing at Trump International Beach Resort. "At Trump Miami, crews will experience fewer distractions with the benefit of more space and creative freedom."
Photoshoot packages start as low as $2,500. For the month of March only, packages also include location fees, a complimentary beach or poolside cabana and an on-site Production Concierge. Trump Miami will accommodate crews of 25 or less for both half or full day shoots. For larger crews or longer shoots, Trump International Beach Resort also offers customized packages and additional hourly rates.
"Whether it's building a portfolio or filming an elaborate production, we are able to tailor each package to fit the company's needs," said Boone. "In addition to providing the most exquisite backdrop, we wanted to provide useful tools to help produce a beautiful and effortless photoshoot."
Boasting ten acres of beach front property, Trump International Beach Resort offers an array of charismatic scenery within the 32-story contemporary resort. From cascading waterfalls and pristine beach to the area's only beach front dining location, the resort sets the perfect stage for any type of photoshoot.
Space is limited. For additional information regarding pricing, please call 866.976.0249 or email production(at)trumpmiami(dot)com. You can also visit http://www.TrumpMiami.com.
ABOUT TRUMP INTERNATIONAL BEACH RESORT
Situated between Miami and Fort Lauderdale in Sunny Isles Beach, Florida, Trump International Beach Resort is an oceanfront oasis, complete with its own private and pristine beach and delightful grotto-style pool complex. A member of Preferred Hotel Group, the Trump International Beach Resort offers 355 oversized guest rooms and suites, each with a private balcony and spectacular views of the Atlantic Ocean or Intracoastal Waterway. Luxurious amenities at Trump International Beach Resort include a full-service spa & 24-hour fitness center, four restaurants and lounges, tennis courts, business center, 22,000 sq. ft. of meeting and banquet space, and the ever popular Planet Kids Enviro-Adventures Program. For more information or book your reservation, please visit http://www.TrumpMiami.com or call 866.976.0249. You can also find Trump International Beach Resort on Facebook, Twitter (@TrumpMiami) or Instagram (@trumpmiami).