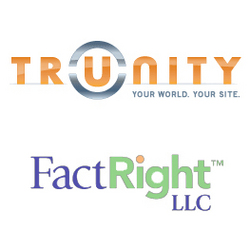 We are very excited to work with FrRiskMgmt on this project. We are able to take this from concept to production in just a few short months because of the flexible architecture of the Trunity platform
Boston, MA (Vocus) May 13, 2010
FrRiskMgmt, a new joint venture between FactRight, LLC (http://factright.com) and FA Risk Management, announces today that they have selected Trunity, Inc (http://www.trunity.net) to develop and host their next-generation social learning and informational portal, FrRiskMgmt.com. This one of a kind portal will provide a central repository of training and information focused on Alternative Investments. FactRight, LLC (http://www.factright.com) is a leading third-party due diligence and risk management firm servicing the financial service and broker dealer industry, and FA Risk Management (http://www.fariskmgmt.com) is a top provider of education, training, and legal services to financial advisors. Trunity will provide marketing and branding services with platform licensing and hosting services, and will participate in the growth of the new offering with FrRiskMgmt.
"We are very excited to work with FrRiskMgmt on this project. We are able to take this from concept to production in just a few short months because of the flexible architecture of the Trunity platform" said Terry Anderton, CEO of Trunity.
FrRiskMgmt plans to leverage Trunity's social media web development platform to launch FrRiskMgmt.com, which is being designed to address the need for financial services community to maximize its opportunity in alternative investments by understanding and minimizing the risks inherent in non-traded assets. As the new, consolidated source for information, FrRiskMgmt.com will offer financial services professionals the best training available through its suite of risk management services. Anthony Chereso, President of FactRight, said "there are over 80,000 registered representatives and financial service executives that are required by FINRA to earn continuing education credits. We believe FrRiskMgmt.com will address this market and fundamentally change the way financial education is delivered to the industry, making it more accessible and interactive". FrRiskMgmt.com will deliver a virtual toolbox of products and services facilitating an immediate flow of information on the latest trends, offerings and regulatory requirements, designed to enhance transparency to the investors.
Accredited investors are taking an increasingly active role in their investments and are now demanding more than ever from their advisers. For the past three years, FactRight has been providing independent research and risk management services to broker dealers and registered reps that help them to help their investors. By teaming up with FA Risk Management, FactRight's newest offering, FrRiskMgmt.com, will provide a one of a kind integrated social network platform for securities professionals to pursue mutual interests and goals.
Chereso said that "the key element to moving forward with the new venture was finding a technology partner like Trunity, which could provide a robust and reliable social media platform that would scale with the business and provide reliable content management capabilities. Moreover, the Trunity platform makes monetization of our business offerings practical and self sustaining." Chris Lenius, FA Risk Management's VP of Sales & Marketing said, "We chose the Trunity platform because it allows us unprecedented flexibility and functionality in the metwork marketing industry." "FrRiskMgmt takes the customer experience seriously and we are pleased to partner with Trunity," Lenius added.
"Companies like FrRiskMgmt are a perfect fit for our platform. They have mission-critical content, a huge addressable market and a need to execute quickly without a long technology build-out. Trunity allows them to focus on what they do best while providing a world-class web platform with all the social media and content management tools already built in" said Anderton.
"Trunity integrates authoring, blogging, news, events, multimedia, and social networking functionality into a unified platform with robust collaboration and content management functionality, giving individuals and organizations a new and cost-effective way to develop online content and catalyze community activity. The Trunity platform also features a unified directory, content sharing and user identity functionality, enabling collaboration within and across communities.
###