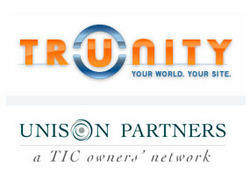 Boston, MA (Vocus) June 8, 2010
Investors in property have never been able to go to one location for all the necessary information on their ventures -- until now. John Temple (http://www.trunity.net/JohnTemple2/), CEO of Unison Partners has chosen Trunity.net (http://www.trunity.net) to revolutionize the way that investors communicate with each other. Creating an online resource for future and current TIC (Tenants in Common) investors, Unison Partners has developed an interactive, information-rich website for each property as a means of outreach its investors and their financial peers.
Temple states, "I have been a broker in the Tenant-in-Common space for over ten years, and subsequent to the collapse of the credit markets in 2008 I have found it almost impossible to keep up the information necessary to keep my clients informed. Not until I was introduced to Trunity and web 3.0 technologies did I really feel I had a fighting chance."
Trunity is excited to welcome Temple and his network of 32 partners and 15,000 investors to the platform, providing an organizational resource to the real estate TIC investor community. Temple brings 1,000 websites with him, one for each property.
Terry Anderton (http://www.trunity.net/portal/topics/view/24361/), CEO of Trunity.net, states, "Trunity provides the perfect platform for investors in the TIC network, offering multimedia outlets for information sharing and easily accessible lines of communication. From the largest organization down to its individual members, Trunity gives the opportunity for everyone to take advantage of, and benefit from, online networking."
About Trunity, Inc. (http://www.trunity.net)
Trunity gives businesses, organizations and individuals the power to organize information, build communities and engage people.
Trunity integrates authoring, blogging, news, events, multimedia, and social networking functionality into a unified platform with robust collaboration and content management functionality, giving individuals and organizations a new and cost-effective way to develop online content and catalyze community activity. The Trunity platform also features a unified directory, content sharing and user identity functionality, enabling collaboration within and across communities.
Since launching its public beta, hundreds of people and diverse organizations comprising a diverse range of case studies involving NGOs, advocacy, civic, educational and commercial organizations have migrated to the platform. Today, the platform also hosts many websites built by individuals for self-publishing, art hobbies, blogging, family archives and social networking.
Contact Trunity:
Mariah Gale,
Creative Director, Trunity.net
mariah(at)trunity(dot)com
978-764-6257
About Unison Partners:
Unison Partners is using Trunity web 3.0 technology with the goal of building out individual websites for the benefit of owners of Tenant-in-Common (TIC) properties.  With the ability to archive all available information on each property from original purchase up through today's most current news it serves to empower owners with the information they need to stay informed.  It is also a state of the art networking platform that allows owners to communicate with each other and collaborate on important issues.  Although built for the benefit of owners it reflects a partnership of effort between owners, property managers, sponsors and register representatives to manage each property to its maximum potential.
Contact Unison Partners:
John Temple,
Principal, co-founder and CEO of Resourcive Capital LLC
CEO and co-founder of Unison Partners
CEO and co-founder of 1031PropertyWatch
johntemplejt(at)gmail(dot)com
###