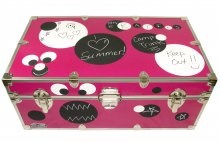 So fun to be able to decorate your new footlocker giving it a "personal" feel. My son loved choosing his Fathead!
Boyd, WI (PRWEB) January 24, 2013
Everything Summer Camp, a leading summer camp equipment retailer, announces over twenty-five trunk decorating accessories for their line of custom trunks and footlockers. Founded in 1987, Everything Summer Camp is the home of C&N (Craig and Nancy) Trunks, offering quality trunks in four different sizes and over ten colors. They have expanded their line of trunk decorating supplies to include trunk decals, stickers, mirrors, Lid Skinz, Fatheads and more.
Trunks and footlockers, also known as travelling chests, have been around for thousands of years in China. The newer designs of the modern trunks date back to the late 18th century. Since their arrival people have been decorating their trunks to personalize them to match their own style and tastes.
Everything Summer Camp offers a complete section of their website just for trunk decorating. Whether it is for traveling, summer camp or extra room storage, they have a trunk and related accessories to fit customer's needs.
Trunk decals are one way to customize an Everything Summer Camp trunk or footlocker. Their chalkboard and dry erase decals bring a unique flavor to a trunk. With the ability to stick them anywhere on the trunk and write on it using chalk or marker is truly a fun experience.
Trunk decorating is most popular with camp trunks, allowing campers to add Lid Skinz and Fat Head decals of professional sports teams. Lid Skinz are durable adhesive skins that are made to order and 100% customizable. These are two popular items for trunk decorating now available at Everything Summer Camp.
"So fun to be able to decorate your new footlocker giving it a "personal" feel. My son loved choosing his Fathead!" said Kimberly, customer of Everything Summer Camp. They pride themselves on customer satisfaction and only offering quality products.
About Everything Summer Camp
Since 1987 parents have turned to Everything Summer Camp to get their kids ready for camp. With a wide variety of camping gear such as kids name labels, LED flashlights, sunscreen, apparel, and their famous C&N Footlockers they are a convenient one-stop-shop for summer camp. The experts at Everything Summer Camp will help take the stress out of getting ready for camp. To learn more about getting ready for summer camp visit http://www.EverythingSummerCamp.com.