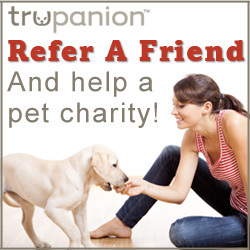 We know many of our customers and potential customers are charitable
Seattle, WA (Vocus) October 4, 2010
Trupanion, the nation's fastest-growing pet insurance company, has launched a new referral program that offers participants the opportunity to donate money to one of four national charities, simply by referring others to Trupanion.
To take part in the program, participants create a unique referral link that they can share with friends and family. When a pet owner uses the link to enroll a pet in a Trupanion pet insurance policy, the referrer receives $20, which he or she can choose to donate to one of four national charities. Trupanion will also donate an extra $5 on the referrer's behalf to the pet charity of the month.
"We know many of our customers and potential customers are charitable," said Darren DeFeo, Senior Vice President at Trupanion, "so we wanted to give them a way to make an impact, while also educating their friends and family about the benefits of pet insurance."
Currently, participants are able to donate to the American Red Cross, Noah's Wish, National Mill Dog Rescue, or Paws Animal Rescue.
This referral program is not limited to current Trupanion customers and employees. Anyone can generate their own unique referral link, and there is no limit to how many people one can refer.
A qualified referral is defined as an enrollment made on Trupanion's site by a person who arrives at the site via another person's referral link. The referrer and the referee cannot be the same person or members of the same household.
Referral links can be created at http://www.trupanionpetinsurance.com/Home/ReferAFriend.
About Trupanion™
Trupanion™ pet insurance offers cat insurance and dog insurance in the United States and Canada. Trupanion™ is self-underwritten by the American Pet Insurance Company, allowing Trupanion™ to offer a simple, customizable pet insurance policy with no payout limits and 90% coverage of veterinary bills. Enrolled pets receive lifetime coverage for diagnostic tests, surgeries, and medications if they get sick or are injured, with no incident, annual or lifetime limit. Trupanion's mission is to deliver fast, simple and user-friendly financial support to pet owners. For more information about Trupanion™, call 800-569-7913 or visit http://www.TrupanionPetInsurance.com.
About the North American Pet Health Insurance Association
Trupanion™ is a founding member of the North American Pet Health Insurance Association (NAPHIA). Founded in 2007, the North American Pet Health Insurance Association is committed to educating and promoting the values and benefits of quality pet health insurance to North American pet owners, the general public, and the veterinary community. As an association, we are committed to high standards and transparency in all of our actions and products. To learn more, visit the North American Pet Health Insurance Association website at http://www.naphia.org.
# # #