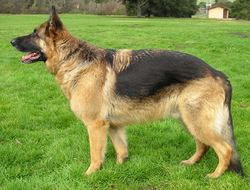 Seattle, WA (Vocus) August 2, 2010
Pet insurance company Trupanion has released a list of obesity-related claims the company received since 2008, stating that obesity in pets is just as dangerous as obesity in humans.
According to WebMD, up to 40% of dogs in the U.S. are overweight, resulting in many severe health issues, including a decrease in life span. The number one obesity-related disease reported by Trupanion was pancreatitis, with a 255% increase in claims since 2008, and the year is only half over. This was followed by diabetes and arthritis, with a 112% increase and 209% increase in claims respectively. Other reported diseases included heart disease, liver disease, and high blood pressure.
Multiple areas of a dog's body are affected by excess body fat, including the bones and joints, the digestive organs, and the organs used to breathe. Trupanion, a pet insurance company,
Having a hard time deciding if your pet is too plump? In general, a healthy bone structure should be easily felt but not seen. Run your hands over your pet and feel for the spine, shoulder blades, and ribs. If you have to dig through many layers of fat, there is a most likely a problem. There should also be a well-defined waist and a tight abdomen.
While in some cases, obesity is related to another disease, such as hypothyroidism in the animal, many times it comes down to owner responsibility. Start early by making sure you feed your pet a healthy diet and give him or her an appropriate amount of exercise. It is also important to have your pet weighed periodically, and to take measures to decrease weight gain if an issue arises. Some easy fixes include:

Increase the amount of exercise your pet receives.
Decrease the amount of food your pet eats daily, or switch to a lower calorie food option.
Decrease the amount of treats given to your pet during the day.
By taking some preventative measures, and keeping an eye on your pet's weight throughout his or her life, you can save him or her from a lifetime of hardships related to obesity. And as an added bonus, you will help keep yourself and your family healthy too.
About Trupanion™
Trupanion™ pet insurance offers cat insurance and dog insurance in the United States and Canada. Trupanion™ is self-underwritten by the American Pet Insurance Company, allowing Trupanion™ to offer a customizable pet insurance policy with no benefit schedules. Enrolled pets receive lifetime coverage for diagnostic tests, surgeries, and medications if they get sick or are injured, with no incident, annual or lifetime limit. Trupanion's mission is to protect the cherished bond between pets and their families by ensuring that pets are able to receive optimal veterinary care. For more information about Trupanion™, call 800-569-7913 or visit http://www.TrupanionPetInsurance.com
About the North American Pet Health Insurance Association
Trupanion™ is a founding member of the North American Pet Health Insurance Association (NAPHIA). Founded in 2007, the North American Pet Health Insurance Association is committed to educating and promoting the values and benefits of quality pet health insurance to North American pet owners, the general public, and the veterinary community. As an association, we are committed to high standards and transparency in all of our actions and products. To learn more, visit the North American Pet Health Insurance Association website at http://www.naphia.org
# # #