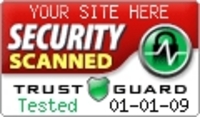 One of the best ways that you can protect yourself and your customers from hackers is by performing daily or quarterly Trust Guard PCI scans of your website. Not only do PCI Scans help protect your server from nearly 30,000 known vulnerabilities, but it also gives your customers peace of mind and confidence in your company, which makes them more likely to buy from you
Salt Lake City, UT (PRWEB) January 13, 2009
Trust Guard (Trust-Guard.com) is pleased to announce the launch of its new PCI Scanning services for online merchants around the globe. This new service gives Trust Guard the unique ability to combine the power of PCI Scanning with their industry leading 3rd party security, privacy, and business verification services, further solidifying Trust Guard as one of the leading brands in online trust seals.
Besides being the only company to offer PCI security, privacy, and business identity seal options, Trust Guard plans to further differentiate itself by being the only company to offer Quarterly PCI seals in addition to Daily seals. Furthermore, Trust Guard's pricing structure is targeted primarily to businesses processing less than 20,000 transactions per year, with prices equivalent to about half the price of their competitors such as McAfee Secure and Control Scan.
Because PCI scanning services and requirements can be very confusing, Trust Guard has gone to great lengths to help simplify the process while making it easier to understand. Laws are continually changing and most online business owners don't understand the importance of PCI scanning and therefore miss out on the power of giving consumers the protection and confidence they're looking for.
Online shoppers are becoming more and more concerned about buying from websites that don't actively protect their security. Not only that, but the major credit card companies are imposing ever-increasing fines and penalties for websites who's customer's credit cards are stolen or compromised.
"One of the best ways that you can protect yourself and your customers from hackers is by performing daily or quarterly Trust Guard PCI scans of your website. Not only do PCI Scans help protect your server from nearly 30,000 known vulnerabilities, but it also gives your customers peace of mind and confidence in your company, which makes them more likely to buy from you," says Scott Brandley, CEO of Trust Guard.
Trust Guard PCI Scanning Main Features and Benefits

Daily or Quarterly scans protect your server against 30,000 vulnerabilities
ASV certified PCI Scanning combined with Trust Guard's Website Verification adds more credibility
No software or programs to download or install
Automated scanning with email notifications so you're always up-to-date
Professional PCI support available to help you with your compliance needs
Display Daily or Quarterly seals to provide trust and confidence to your visitors
For more information on how to become PCI compliant visit Trust-Guard.com.
###