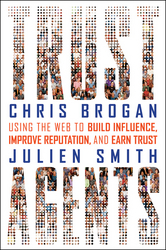 There are also thousands of conversations on Twitter
San Francisco, CA (PRWEB) August 31, 2009
Marketers and authors who still doubt the power of social media should take note of the viral campaign by the authors of Trust Agents. Chris Brogan and Julien Smith leveraged the power of their social networks to drive their book to the New York Times extended bestseller list the week of September 6. With a lot of major media and ad campaigns yet to hit, this result can be correlated to a call for action by the authors using only their blog, Twitter and Facebook accounts.
Brogan put a call for action on his blog on August 17. "I have a favor to ask," he writes. "If you're interested in our book, if you support all that I've given you over the past several years, if you want to buy a friend (or an entire small village) a gift, I'd like to request that you buy Trust Agents from your favorite online source. This request itself is a social media experiment in trust (or I'm just asking you to buy books)."
Brogan also explains that he and Smith sent a message to 325 selected people on Facebook, the so-called "Agent Zeros" as outlined in the book. "There are also thousands of conversations on Twitter," he adds. (See the conversation right now: #trustagents).
The authors have been building buzz quietly since they signed the deal with John Wiley & Sons in January, and anticipation for the book has been steady since then. "We are thrilled that the response to the book has been so positive," says Matt Holt, Publisher, John Wiley & Sons.
Trust Agents explains how to tap into the power of social networks to build your brand's influence, reputation, and profits based on Brogan and Smith's decades of being active online. Trust agents aren't necessarily marketers or salespeople, the authors explain in the book; they're the digitally-savvy people who use the web to humanize businesses using transparency, honesty, and genuine relationships.
Brogan and Smith have been establishing their individual businesses online for over a decade, earning high regard and respect from thousands of peers wishing to emulate their success.
There's no question that the Internet has changed the way we do business--especially when it comes to marketing. Today the premise for Brogan and Smith's book has been proven: the most valuable online currency isn't the dollar, but trust, reputation, and influence.
###