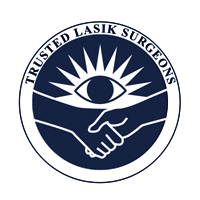 The most impressive aspects of the AAO annual meeting are the continued advancements in high technology instruments which can help produce better and safer outcomes for patients interested in not just LASIK and intraocular lens implants (IOLs), but catara
San Francisco, CA (PRWEB) November 5, 2009
Trusted LASIK Surgeons, Inc. (Trusted LASIK Surgeons) is pleased to highlight the many contributions made by surgeons listed in its LASIK Surgeon Directory at the recently concluded Annual Meeting of the American Academy of Ophthalmology (AAO) and the International Society of Refractive Surgeons (ISRS/AAO). This yearly meeting of the American Academy of Ophthalmology is the largest gathering of ophthalmologists and eyecare professionals held in the world. Over 13,000 ophthalmologists, technicians and industry representatives attended the meeting. Dr. Stephen Brint, Dr. Frederick Fraunfelder, Dr. Jonathan Davidorf, Dr. Peter Rapoza, Dr. Michael Raizman, Dr. James McCulley, Dr. R. Wayne Bowman, Dr. Edward Manche, and Dr. Parag Majmudar, all proven LASIK Surgery, refractive surgery, laser eye doctors and cataract surgery experts, were among the many surgeons at Trusted LASIK Surgeons who were actively involved as lecturers, instructors, and panel participants and moderators at the AAO Annual meeting.
New Orleans LASIK surgery and cataract expert surgeon Dr. Stephen Brint, of Brint Custom Vision, lectured on "LASIK for Patients with High Astigmatism." Dr. Brint, a true pioneer in laser vision correction surgery who performed the first LASIK surgery with Dr. Stephen Slade, explained how high amounts of astigmatism can be effectively treated with the Allegretto Laser. "Now patients with large amounts of astigmatism can be accurately corrected with LASIK," he explained.
Dr. Frederick Fraunfelder, M.D., Associate Professor of Ophthalmology at the Casey Vision Correction Center of the Oregon Health & Science University, presented "Drug-Related Adverse Effects of Clinical Importance to the Ophthalmologist". This course is consistently ranked in the top 10% of all courses at the AAO Annual Meeting every year and he has been the senior instructor for the last 5 years. Attendees will be able to identify and treat drug related adverse ocular events after completing this course. Dr. Fraunfelder will also be presenting at the Brymill Cryogenics booth on liquid nitrogen cryotherapy for surface eye tumors. Dr. Fraunfelder treats patients seeking LASIK and other vision correction surgery as well as cataract surgery in Portland and throughout Oregon.
Leading Los Angeles LASIK surgery and cataract expert surgeon, Dr. Jonathan Davidorf, was a featured speaker and instructor at the recent AAO meeting in San Francisco. Dr. Davidorf, who practices at Davidorf Eye Group, located in the Greater Los Angeles is a frequent participant in clinical studies aimed at advancements in ophthalmology, including LASIK, lens implants, and cataract surgery. Dr. Davidorf's presentation at the AAO meeting was entitled "Presbyopic IOL Calculations: The Aspheric ReSTOR D3 and Crystalens HD". This study examined the predictability of intraocular lens implant calculations in patients undergoing cataract surgery and implantation of these the ReSTOR D3 and Crystalens HD lenses. Dr. Davidorf concluded that the data demonstrated good predictability of IOL calculations in both lenses. Dr. Davidorf was also a featured instructor for "Astigmatism in the Cataract Patient". This skills transfer course was designed to teach cataract surgeons techniques to correct astigmatism in patients undergoing cataract eye surgery -essentially helping them to see without glasses.
Refractive surgeons Dr. Peter A. Rapoza and Dr. Michael B. Raizman Ophthalmic Consultants of Boston or OCB, were co-authors on a presentation demonstrating that wavefront-guided and conventional PRK followed by the applicaton of Mitomycin C are both effective procedures to treat residual hyperopia or myopia with and without astigmatism following prior LASIK with a mechanical keratome or the IntraLASE. These Boston laser eye doctors and cataract surgery experts found that PRK, as an enhancement technique over LASIK flaps, is also effective in patients that have undergone cataract extraction following their original LASIK surgery. According to Dr. Rapoza and Dr. Raizman, PRK is becoming increasingly important as an enhancement tool for the patients with prior LASIK that need a refractive correction long after their original surgery and in patients that may develop cataracts and developed refractive error after lens implantations surgery. (The difference between LASIK and PRK laser eye surgery is that no corneal flap is made in PRK).
Proven Dallas LASIK Surgery, vision correction and cataract surgery experts James McCulley, M.D., and R. Wayne Bowman, M.D., who practice at the UT Southwestern Medical Center's Laser Center for Vision Care of Texas, were among the co-authors for two poster presentations that were made at the International Society of Refractive Surgeons (ISRS) segment of the AAO meeting. The first, "Accuracy of LASIK Flap Thickness Created by Femtosecond Laser and Microkeratome Measured by Anterior Segment OCT", evaluated the precision of the IntraLase Femtosecond laser in comparison to microkeratomes in creating the LASIK flaps using the anterior segment OCT. The results showed that both technologies were accurate and predictable, although the IntraLase Femtosecond laser was superior. In the second poster, "Wavefront-optimized LASIK Retreatment for Residual Refractive Errors," the authors sought to know how predictable and safe the wavefront-optimized LASIK was in the cases of retreatment. The wavefront-optimized LASIK has the advantage of keeping the corneal surface prolate, which decreases the spherical aberrations. The researchers concluded that wavefront-optimized LASIK is safe, predictable, and efficient in retreating residual refractive errors.
Palo Alto, San Jose and San Francisco Bay Area LASIK surgery expert Dr. Edward Manche, Director of Cornea and Refractive Surgery at the Stanford Eye Laser Center and Professor of Ophthalmology at the Stanford University School of Medicine made two presentations and served on two panels, one as a moderator and one as a panelist. In the first study, Dr. Manche looked at the effect of preoperative pupil size on postoperative quality of vision and night vision effects such as glare, halos in eyes undergoing wavefront-guided LASIK surgery. His study showed that preoperative pupil size was not correlated with an increase in glare and halos one year postoperatively. A second study compared dry eye findings in eyes undergoing wavefront-LASIK with either a mechanical keratome vs. a femtosecond laser. According to Dr. Manche, this study showed that there was no difference in dry eye symptoms between the two groups and there was a return to pre-operative levels of dryness by postoperative month three.
Parag A. Majmudar, M.D., a respected Chicagoland Corneal Specialist and LASIK surgeon, senior partner of Chicago Cornea Consultants and Associate Professor of Ophthalmology at Rush University Medical Center in Chicago, was an active contributor at the AAO meeting in several capacities across various sub-specialties, including LASIK and other laser vision procedures as well as cataract surgery. He served as Invited Faculty at the "Cornea and Anterior Segment Disasters: Bringing Them back from the Precipice" meeting and was an invited instructor for the "LASIK Course". During 2009, Dr. Majmudar has served as Chairman of the AAO Refractive Surgery Subcommittee and as a member of the AAO Annual Meeting Program Committee. He is one of 4 international surgeons to be invited to the Annual Meeting of the Refractive Implant and IOL Society to be held in Agra, India in December 2009. Of special note, Dr. Majmudar was one of the first refractive surgeons in the United States to perform the Veriflex phakic implant procedures, which is used for patients with high myopia (nearsightedness) that cannot have LASIK, and helped pioneer the use of MMC, a drug used for the prevention and treatment of corneal scarring in association with certain refractive surgical procedures. Dr. Majmudar serves patients seeking LASIK Surgery and other vision correction procedures as well as cataract surgery is based in Chicago, Illinois.
Los Angeles LASIK Surgeon Dr. James J. Salz, CEO of Trusted LASIK Surgeons summarize the AAO meeting as follows: "the most impressive aspect of the AAO annual meeting is the continued advancements in high technology instruments. Speakers, including the many experts listed at Trusted LASIK Surgeon, as well as industry exhibits emphasized improved excimer laser systems, improved femtosecond laser systems, and improved diagnostic instruments. This high tech explosion will produce better and safer outcomes for patients interested in not just refractive surgery procedures like LASIK, and intraocular lens implants (IOLs), but cataract eye surgery as well."
The refractive eye surgeons listed and profiled in the Trusted LASIK Surgeons Directory are among the most highly qualified LASIK Laser Eye Surgery refractive surgeons in the US. The online web directory includes many of the true pioneers in vision correction surgery, not just in LASIK eye surgery, but other procedures such as lens implants, phakic implants, conductive keratoplasty, and cataract eye surgery.
To find a highly accomplished LASIK Surgery and refractive specialist in your local area who has been qualified and listed in the Trusted LASIK Surgeons directory, please visit Trusted LASIK Surgeons Directory
For more on why consumers should consider surgeons listed in the Trusted LASIK Surgeons directory for their vision correction needs, please visit:
Why choose a Laser Eye Surgeon from the Trusted LASIK Surgeon's Directory
The screening process and standards used by Trusted LASIK Surgeons are located at How Are LASIK Eye Surgeons Qualified at Trusted LASIK Surgeons?
About Trusted LASIK Surgeons
Trusted LASIK Surgeons, Inc. (Trusted LASIK Surgeons) is a premier LASIK, laser eye surgery, refractive eye and cataract surgery directory service whose primary mission is to assist consumers in finding the best and most qualified LASIK sugery, Laser eye doctors, and vision correction surgeons in their local area in the United States. To accomplish this, Trusted LASIK Surgeons uses a unique screening process where each prospective LASIK Laser eye surgeon must meet the minimum required qualifications set by Trusted LASIK Surgeons. These qualifications for these doctors are based on experience (not just in LASIK but complete refractive care), research (including FDA approval studies for manufacturers and academic appointments at major universities), publications and lectures (to their peers, not to the public via infomercials) and patient care standards (treating other eye professionals and managing complications from patients first operated on by someone else). All refractive eye surgeons listed at Trusted LASIK Surgeons have qualified, been accepted, and have subscribed to our services. For more information on why we believe consumers interested in LASIK should consider an eye surgeon listed in the Trusted LASIK Surgeon's directory, please visit our website at http://www.TrustedLASIKSurgeons.com.
Trusted LASIK Surgeons
(800) 483-8028
news at TrustedLASIKSurgeons.com
About the American Academy of Ophthalmology (AAO)
AAO is the world's largest association of eye physicians and surgeons--Eye M.D.s--with more than 27,000 members worldwide. Eye health care is provided by the three "O's" - opticians, optometrists and ophthalmologists. It is the ophthalmologist, or Eye M.D., who can treat it all: eye diseases and injuries, and perform eye surgery. For more information, visit the Academy's Web site at http://www.aao.org.
SOURCE: Trusted LASIK Surgeons
# # #