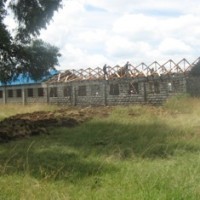 Ever since Scott spent time in Africa, we have been wanting to get involved with a charitable organization doing work there. As soon as we heard about the school project in Kenya, we were excited to do whatever we could to help out
Ogden, UT (PRWEB) November 16, 2010
Website security expert, Trust Guard, announces partnership with the World Teacher Aid Organization this week. The purpose of the partnership: to help raise money to finish a school project in Kenya. The Canadian charity, started in 2006 by Amy McLaren, aims to improve children's education in the developing world. A current project to build a school in Kenya, is what attracted co-founders Dave and Scott Brandley to the organization. "Ever since Scott spent time in Africa, we have been wanting to get involved with a charitable organization doing work there, and as soon as we heard about the school project in Kenya, we were excited to do whatever we could to help out." Says Dave Brandley.
They are building their first school for a community of displaced men, women, and children in Kenya, Africa. Due to civil unrest, entire communities have been uprooted from their homes and relocated to a rural region of Kenya. The children are currently walking 5KM each way, to school. The new school is being built one classroom at a time as funding allows. Funding is also needed to pay teacher salaries, as well as provide the children with a nutritional lunch. The school will feature eight classrooms, of which half have been built. Trust Guard is hoping to help them reach the 12,000 dollar goal to build the fifth classroom, starting with a $2,500 donation.
While Trust Guard a website security company is focusing their efforts to raising money for the school in Kenya, WTA is working on other projects in Uganda, Ghana, and El Salvador as well. The charity focuses on four key elements: Funding teacher salaries, daily feeding programs, sponsoring students, and school renovation. According to WTA, these four elements are key because most teachers move out of rural areas leaving the children there without an education, food is scarce and malnutrition makes learning difficult, students who are successful in school often do not have the money to afford higher education, and in some cases where a school does not exist to renovate, they have to build one.
"It's time for Trust Guard to help bring safety and security to lives outside of the web". In their effort to help World Teacher Aid build the next classroom, they will be putting a donation button along with information on the organization directly on their website Trust-Guard.com. "I lived in South Africa for 2 years says Scott, and the poverty just outside of the rich areas is unbelievable. I have wanted to participate in a program since that is working to improve the lives of the children in Africa, because there is no reason in this day and age for human beings to still be struggling to read, write, and learn. Trust Guard is more than happy to be a part of such a great charity. We know that the World Teacher Aid Organization will work diligently to improve the lives of the people there. We're going to help them, and invite our friends, families, and clients to do the same."
World Teacher Aid is an organization that is hands on. Contributors are encouraged to visit Kenya personally and participate in building the school. The cost of building one classroom includes the cost of airfare, food, and lodging plus the materials required to complete the room. Amy and her husband Stu, believe in their cause, and that there is nothing more rewarding than personally meeting the children in need, seeing the pure joy on their faces as their futures are set in wood and stone. Trust Guard wholeheartedly encourages their clients to join them in this great cause, and help the children realize their dreams of a future and an education. For more information you can contact either Trust Guard, or World Teacher Aid.
###