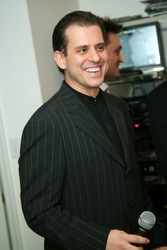 Now that we have hundreds of "friends" online, we often don't know which friend can help. You can't have a personal or business discussion on a public feed. TrustWorks is opt-in, private profiles for your trusted community, and maintains total privacy.
New York, NY (PRWEB) May 10, 2010
For serial Entrepreneur Aaron Sylvan, Facebook Founder Mark Zuckerberg's blatant irreverence for his users' privacy means one thing: opportunity.
Back in 2007, just as Facebook was taking off, Sylvan anticipated the need for an alternative to the "public feed" model of social networking. He quietly obtained backing from several IT industry giants and business strategists, and an advisory board comprised of dotcom and Fortune 500 execs. The founding partners went on to develop TrustWorks™, a non-broadcast platform for private conversations — like "crowdsourcing" without the crowd.
Now, hovering on the threshold of its launch and distribution, TrustWorks™ is poised and ready to become the solution to what is blossoming into the most widely discussed issue in the tech industry: online privacy.
"I saw the problem when a family member got sick — I didn't know which friend to talk to, and I wasn't going to put it on Facebook," says Sylvan. "Then a CTO friend was complaining about how people at his company never know who to ask, and I realized it's also a business problem." Click here for more comments.
On the surface, TrustWorks™ resembles just another question-and-answer site, like Aardvark.com or Answers.com — but the real innovations have to do with privacy and community:

TrustWorks™ is built around real-life communities, such as Universities, Corporations, SIGs, and Professional Organizations.
There are no mailing lists and no public feeds — only direct connections within a user's trusted group.
Profiles are completely private, answering questions is strictly "opt-in", anything can be anonymous, and nothing is searchable.
When users need personal or business advice, each question is sent only to one or several individuals who have the right skills or experiences to have the conversation
Just as Facebook has special lists of schools, and LinkedIn has special lists of employers, TrustWorks™ has a special way of storing knowledge.
Dialogs can be vetted for compatibility through a unique system, similar to those found on dating sites like eHarmony.com or match.com.
Questions provide settings for different levels of urgency, and can be handled by email or SMS. IM and VOIP are in development.
For additional information about the product, click here.
When Facebook Founder, Mark Zuckerberg, publicly stated that "Privacy is no longer the social norm," Sylvan's team hit the accelerator and expedited completion of an early release of the software.
Just as Facebook launched its controversial system update in April, Sylvan was expanded his small company into hip NYC tech offices Sunshine Suites in TriBeCa.
Now that Congress is finally having to step in and take legislative action to protect Facebook users' privacy rights, Sylvan's days are jam packed with software presentations and meetings with Venture Capital firms.
"We expected most of our calls to be from small and medium enterprises, who want a better way for employees to connect than facebook or yammer," says Sylvan, "but we have also been getting a ton of interest from schools, who want to help alumni and students to exchange private advice about all walks of life, job opportunities, and personal or professional subjects too private for a feed-based." Research shows that providing high-value connections with other alumni can increase donations by 14-22%, so expect to see TrustWorks coming to your school soon!
Private communities provide faster and better answers to important questions than public broadcast networks.  The only thing preventing the tech market from realizing this has been the system to make it work.  Now that system is here, in an early release format, with a major upgrade scheduled for Fall 2010.
TrustWorks™ is licensed as a hosted Software-as-a-Service ("SaaS") solution for small and medium enterprise, discounted for educational organizations and not-for-profits, and currently free for individual users.  For more information visit http://about.TrustWorks.com, email info(at)TrustWorks(dot)com, or call +1 646-825-5300.
Media Contact:
Aaron Sylvan (bio at: http://aaronsylvan.com/)
e. aaron(at)TrustWorks(dot)com
c. 917.684.0670
t. @aaronsylvan
###