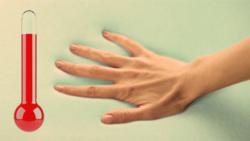 Phoenix, AZ (PRWEB) May 06, 2013
The science shows that cooler environments result in better sleep, and for many keeping cool at night proves important. One of the top concerns of consumers considering a memory foam mattress involves the idea that this type mattress sleeps hot. Mattress-Inquirer.com takes a closer look at the issue in their latest article, "The Truth About Memory Foam and Heat".
The article begins by explaining why a neutral temperature proves important for good sleep, and offers some statistics on mattresses and heat to provide background. In surveys, memory foam mattress owners are about 1 to 4% more likely to complain about heat compared to latex and innerspring beds. However, overall the proportion of people with heat issues proves fairly low at about 8%, or 1 in 13 owners.
Although a fairly small minority actually cite heat issues in large scale surveys, Mattress Inquirer explains the popularity of the notion as the tendency of dissatisfied consumers to be more vocal than those with average experiences or no issues.
In addition to the basics, the article goes on to consider how different types of memory foams perform regarding heat, including traditional, gel-infused, and plant-based memory foam. While all are found to offer comfort benefits, plant-based memory foam is identified as offering the greatest advantage when it comes to sleeping cool. Mattress Inquirer mentions Amerisleep's plant-based memory foam mattresses, which feature a large, open cell structure, temperature neutral design, independent testing showing marked improvements in airflow and coolness.
Concluding the analysis, a short checklist offers readers an overview of what to look for trying to stay cool. Tips offered include selecting open cell, temperature neutral foam of medium density with a breathable covering. Mattress Inquirer also reminds readers that only a small proportion of consumers report issues with memory foam and heat, and that these concerns can be mitigated by understanding the facts about the material and available products.
Mattress-Inquirer.com is an informational blog that provides relevant and recent news related to the health, sleep, and mattress industries. In addition to covering new technologies, mattress reviews and opinion pieces, readers enjoy a variety of helpful educational resources designed to aid shopping and sleep quality.