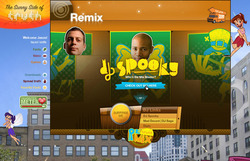 Sunny Side of truth®
Washington, DC (PRWEB) July 9, 2008
Songs from the truth® advertising campaign will get a new twist this summer when nine well-known DJs and bands remix them in styles from house and hip-hop to electro. As part of the truth® "ReMix" project, artists including Cobra Starship, Kaskade and Mix Master Mike remixed songs from the "Sunny Side of truth®", the current advertising campaign from the nation's largest youth smoking prevention campaign. The ReMix tracks will be packaged as a CD compilation and will be available for download as part of an effort to reach a wider teen audience through technology, alternative media and entertainment outlets.
"Many of the life-saving messages around the truth® campaign are designed to be spread peer-to-peer," said Dr. Cheryl Healton, President & CEO of the American Legacy Foundation, which provides strategic direction and funding for the campaign. "With the ReMix project, we're pairing the innovative talents of DJs and bands with the use of newer media outlets where teens go to be entertained, share information, and connect with friends. It's just another creative way truth® is evolving as a way to continue to stay relevant and cool with teens, and get our life-saving information top of mind."
Despite the campaign's upbeat, playful musical tone, the ads deliver a strong message and illuminate facts about tobacco.
Nearly 80 percent of teens start smoking before age 18. The truth® campaign focuses on reaching those teens with facts and information about tobacco use and the marketing tactics of the industry.
The truth® ReMix project will be accessible on multiple platforms:
Web: Beginning July 9, 10 ReMix songs will be available for listening at thetruth.com/remix and truth®-branded pages on social networks. The songs will also play on various music sites. Starting at the end of July, they will be available for download from digital distribution sites.
Video, Podcasts and TV: Visitors to thetruth.com can watch behind-the-scenes videos showing the DJs and bands creating the songs and discussing the program. These will also be available as downloadable podcasts. Podcasts with Z-Trip and Kenny Dope will kick off the ReMix project on July 9. A selection of podcasts will be featured as vignettes on VH1, Fuel and the N. In addition, G4's popular "Attack of the Show" will use ReMix songs as background music.
Mobile: Teens using a special widget can share ReMixes by sending them to friends' phones with a personalized message. The widget will be available at thetruth.com and truth® social networking profiles on July 9.
Radio: Starting July 9, ReMix songs will play on radio stations across the country.
Summer Tour and Grassroots: CDs will be distributed by truth® trucks and crews at stops on the 60-city, 30-state truth® summer tour , including events like VANS WARPED Tour. Starting in late July, people buying VANS tour tickets through Ticketmaster.com will be offered a free download from the ReMix CD. Later this summer, truth® will ask fans to create their own ReMixes and upload them to imeem.com for judging.
DJs and bands contributing to the ReMix project include: Mix Master Mike, Pete Rock, DJ Kaskade, Z-Trip, Kenny "Dope" Gonzales, DJ Diplo, DJ Spooky, Cobra Starship and DJ Sega. Complete bios and MP3 versions of the remixes are available at http://www.thetruth.com/remix .
The ReMix Web site, CD packaging and Mobile Widget design were created by Arnold Worldwide of Boston, the agency of record for truth® advertising. ReMix music was produced in conjunction with Rock River Music.
The "Sunny Side of truth®" campaign aims to shine light on the activities of Big Tobacco and the health consequences of tobacco use by satirically pointing out the "hidden positives" associated with tobacco. For more information, visit http://www.thetruth.com.
About truth®
truth® is the largest national youth smoking prevention campaign and the only national campaign not directed by the tobacco industry. It exposes tactics of the tobacco industry, the truth about addiction, and the health effects and social consequences of smoking. truth® allows teens to make informed choices about tobacco use by providing facts about the industry and its products. The campaign was created by the American Legacy Foundation, founded as a result of the 1998 Master Settlement Agreement between the tobacco industry, 46 states and five U.S. territories.
In February 2005, the foundation released the results of an evaluation of the national truth® campaign that was published in the American Journal of Public Health, which found 22 percent of the decline in youth smoking during the first two years of the campaign is directly attributable to truth®. This equates to 300,000 fewer youth smokers in 2002.
Contact:
Trish O'Callaghan
917-319-1844
pocallaghan @ ad-itive.com
Patricia McLaughlin
202-454-5560
pmclaughlin @ americanlegacy.org
# # #