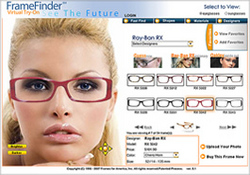 This is a huge step forward in bringing fashion designer sunglasses and eyewear right into the consumers home on their PC
Houston, TX (PRWEB) October 11, 2007
The owners of FramesDirect.com, the online leader in online eyeglasses, sunglasses, contact lenses and eyewear sales, are pleased to announce the launch of the newest version of their FrameFinder Virtual Try-On System.
The patented system uses a complex Biometric algorithm to allow site visitors the ability to upload a face photo and try on eyeglasses and sunglasses from the convenience of a personal computer in a matter of minutes. Customers are able to scale and size their photo for proper proportions in regards to the eyewear they are trying on.
Although the ability to try on several thousand eyeglasses frames has been available in FrameFinder, premium sunglasses including Oakley, Maui Jim and Ray Ban, are now available to try on virtually as well. More hand-chosen premium sunglasses collections will be added in the future.
The new version of FrameFinder also includes a new, updated look and feel and both male and female models for the demo of the software. Users can search for eyewear by shape, material or designer.
"This is a huge step forward in bringing fashion designer sunglasses and eyewear right into the consumers home on their PC," said Dr. Dhavid Cooper, CEO of FramesDirect.com. "No long trips to the mall or sunglass store to see what looks good on you. We're changing the entire paradigm of sunglass shopping by bringing fashion eyewear to the consumer 24 hours a day."
FramesDirect.com is a 24-hour/7-day-a-week eyewear store that went online in 1996 and currently features over 116,000 products, including designer frames, eyeglasses, sunglasses, prescription lenses and contact lenses as well as a patented online technology for finding eyeglasses, sunglasses and frames.
About FramesDirect.com:
Dr. Dhavid Cooper and Dr. Guy Hodgson have been in practice for over 20 years and founded FramesDirect.com in 1996. With offices in Houston and Austin, the family of optical websites includes http://www.framesdirect.com , http://www.binocularsdirect.com and http://www.gogglesdirect.com . FramesDirect.com can be reached at 1-800-248-9427.
###