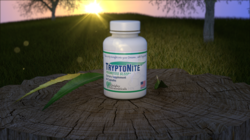 Take a trip tonight into your Dreams… with TryptoNite!
Doylestown, PA (PRWEB) July 08, 2013
Guy Quigley, the original founder of The Quigley Corporation & Dr. Robert L. Pollack, Ph.D., along with former international lawyer Daniel L. McCaughan, JD – announce the launch of their new Patent Pending Dietary Sleep Supplement "TryptoNite" through Quigley Nutraceuticals LLC.
The same creative team that developed the well-known product Cold-EEZE®*, have now tackled the nationwide problem of insomnia by launching their new product TRYPTONITE. This ground breaking dietary supplement - which promotes sleep – is made in the United States at an award-winning FDA Approved manufacturing facility. TryptoNite's patent pending formulation is specifically designed to be all natural, non-habit forming, and gluten free. The key ingredients found in TryptoNite have been clinically proven to help people fall asleep more quickly, stay asleep longer throughout the night, and awake refreshed the next day without feeling groggy. **
Guy Quigley stated that "TryptoNite is about to turn the world of sleep support supplements on its "back" while putting everyone to SLEEP! And THAT is precisely what we want to do!"
Quigley Nutraceuticals, LLC is based near Doylestown, PA and was started by a dynamic team of business professionals and leading world-class scientists representing more than a combined 100 years of unparalleled scientific, entrepreneurial and business experience. The Quigley Nutraceuticals Director of Scientific Affairs, Dr. Robert L. Pollack, Ph.D., was Guy Quigley's Director of Research and Development for almost a decade. Dr. Pollack has been recognized as one of the top cited leading research scientists in the world, and one of the top research scientists in the field of Biochemistry and Nutrition. He is also a recognized expert on L-Tryptophan, having written several books and papers on the amino acid.
"Take a trip tonight into your Dreams… with TryptoNite." Available NOW at http://www.TryptoNite.com.

Quigley Nutraceuticals LLC is not connected or affiliated with Cold-EEZE®, which is a registered trademark of ProPhase Labs, Inc., F/K/A The Quigley Corporation.
** These statements have not been evaluated by the Food and Drug Administration. This product is not intended to diagnose, treat, cure, or prevent any disease.
CONTACT:
Daniel L. McCaughan, JD
danmccaughan(at)qnutra(dot)com
646-499-5100
Guy Quigley
guyquigley(at)qnutra(dot)com
215-766-2792