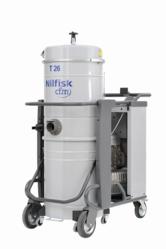 The Nilfisk CFM T Series is ideal for collection of powders, liquids, dust, and debris.
Morgantown, PA (PRWEB) July 06, 2011
Nilfisk Industrial Vacuums announces the launch of the Nilfisk CFM T Series. These three-phase, continuous duty vacuum cleaners meet the industrial demands of today's manufacturing facilities, who realize the importance of implementing a solid housekeeping plan to keep workers safe and productivity high. The T Series is comprised of the T26, T48 and T63.
As demonstrated on http://www.NewNilfiskVacuums.com through product video, the T Series industrial vacuums are constructed of heavy duty steel and polypropylene and are ideal for collection of powders, liquids, dust and debris. The vacuums are easy to use and maintain, even in the most challenging environments.
Features and benefits include:

A manual filter shaker that quickly removes caked on dust from the filter's surface, maintaining the vacuum's maximum suction power and improving productivity.
A unique release lever lowers the wheeled collection container and acts as a handle for fast and easy disposal of collected debris.
An optional HEPA filter ensures that 99.995% of particles are retained, down to and including 0.18 microns in size. This exceeds HEPA filter standards.
For safe collection and easy disposal, the T Series machines are available with a dust bag, safe bag, or Longopac® Collection System, which allows for the collection of material in an "endless" bag that can be filled with the desired quantity, cut, sealed, disposed and immediately restored for a new use.
The T26, T48 and T63 are compatible with a wide range of Nilfisk CFM attachments and hoses to meet specific application requirements. For more information, visit http://www.NewNilfiskVacuums.com.
About Nilfisk Industrial Vacuums
Nilfisk Industrial Vacuums is a division of Nilfisk-Advance America, Inc., one of the largest providers of cleaning equipment in North America. From its Morgantown, PA headquarters, Nilfisk Industrial Vacuums supports three brands of industrial vacuum cleaners: Nilfisk, Nilfisk ALTO and Nilfisk CFM. Equipped with exceptionally efficient filtration systems and user-friendly features, the company's vacuums play a critical role in thousands of manufacturing facilities and industrial processes across North America. Supported by a direct sales force and extensive dealer network, Nilfisk Industrial Vacuums have solved a variety of cleaning challenges, including combustible dust, general maintenance, overhead cleaning, abatement, process integration, laboratory/cleanroom control, and more. For more information, visit http://www.NewNilfiskVacuums.com.
# # #