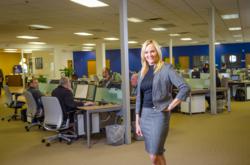 Our new beautiful and expanded headquarters mirrors the extraordinary growth and numerous achievements of our company in recent years
Rochester Hills, MI (PRWEB) January 22, 2013
TTi Global will mark the opening of its new leading-edge world headquarters in a formal ribbon cutting ceremony at 3:30 p.m. Thursday, Jan. 31 at 3903 W. Hamlin Road in the heart of Rochester Hills' automotive district. President and CEO Lori Blaker will be joined by Oakland County Executive L. Brooks Patterson, Rochester Hills Mayor Bryan Barnett and Rochester Chamber of Commerce Board Member David Walker along with 200 guests.
The interior of the 25,000 square-foot facility features a high-tech, open environment that supports work teams and multiple projects. There is an ultra-modern lounge and cafeteria and shortly a company work-out room. The building, designed by NBS Commercial Interiors of Troy, has a neutral color scheme, subtle textures and utilizes retractable screens that blend to create a comfortable and relaxing environment.
"Our new beautiful and expanded headquarters mirrors the extraordinary growth and numerous achievements of our company in recent years," Blaker said. "We are proud to open our doors to our many clients, friends and the local business community."
In addition to the opening of its new headquarters, TTi Global will also launch its new branding campaign developed by Push 22. It will be on full display throughout the building. The event will have an international theme reflecting the company's global reach.
Patterson acknowledged TTi Global's remarkable presence in the international marketplace. "I have watched the growth of TTi since its humble beginnings," he said. "Lori Blaker's vision, courage and determination have taken the company onto the global playing field."
Following the ribbon-cutting ceremony, TTi Global will host an open house for customers, employees and special guests. The menu for the day has been designed by Holiday Catering of Royal Oak and will feature signature dishes from five continents.
About TTi Global
TTi Global provides workforce development solutions to industries across various sectors with automotive as a core focus. TTi Global oversees operations on five continents with offices spanning the globe, which include Australia, Brazil, Canada, Chile, China, India, Japan, Mexico, Peru, South Africa, Thailand, Venezuela, UK and most recently Afghanistan.
With a staff of over 1,500 employees in international operations, they offer a wide range of services, tailor made to drive business goals, including business consulting, research, staffing, workforce development and learning solutions. TTi Global world headquarters are located in Rochester Hills, Michigan.
###