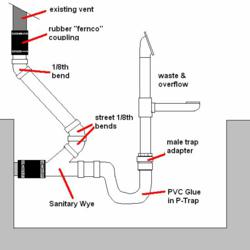 Today's drains are simple: both pull-up drains and their cabled counterparts.
Youngstown, Ohio (PRWEB) August 28, 2012
Modern tub drains are better than ever, according to Mr Rooter, the most referred plumber in the Northeast Ohio and Southwest Pennsylvania region. "Gone are the days of complicated linkages," says Bob Beall, who offers free plumbing expertise to consumers with Mr Rooter's Tip Of The Day. "Today's drains are simple: both pull-up drains and their cabled counterparts."
Both drain styles use common schedule 40 PVC drainpipe and glued fittings. "These models install a lot faster than older designs and making rodding the pipes through the tub overflow easier," says Beall, a master plumber and expert in his field. "The pull-up drain combines simplicity and low cost; it also drains fast. For a fancier drain that doesn't get your hands wet when pulling the plug in a full bath, opt for a cable-drain mechanism," says Beall.
Mr Rooter's Tip Of The Day
Cable-Controlled Drain: On a cable-controlled drain, turning the handle pushes or pulls the cable, which raises or lowers the stopper. Pull-Up Drain: A tub pull-up drain is easy to install and maintain. Simply pull up the disk to drain the water.
Tip #1 Remove the center pop-up by unscrewing it from the drain.
Tip #2 Caulk both the underside of the drain flange and the recess in the tub body into which it fits.
Tip #3 Insert the drain body into the tub hole.
Tip #4 Insert the open jaws of needle-nose pliers in the drain ports into the drain (to keep it from turning).
Tip #5 Tighten the plastic drain elbow on the threads of the drain body.
Tip #6 Fasten the overflow cover to the tub.
Tip #7 Dry-fit the drainpipe between the overflow and the tub drain.
BONUS TIP: If the PVC pipe supplied with the kit does not fit perfectly between the overflow and the drain fittings, cut it to fit. Once all pieces fit, glue the joints and install the tub
Tip #8 Use a flexible T-fitting to connect the tub drain to the main drainpipe. Hold the T-fitting against the drainpipe to mark its dimensions. Be sure to allow for the flanges on the fitting.
Tip #9 Cut the drainpipe on the marks.
Tip #10 Insert the fitting into the gap in the drainpipe, point it to receive the tub drain, and tighten the clams.
Tip #11 Insert the trap into the T-fitting, using a reducing bushing (if necessary) and attach the tub drain to the fitting. Then tighten all clamps.
Mr. Rooter's Daily Tips are provided by Mr. Rooter Plumbing.
Subscribe today! (bottom right corner).
There's A Reason They Call Us Mr.™
Debra Santavicca PR, SMM, WebIT
Mr. Rooter Media Center
724-553-9510
http://www.rooter2.com