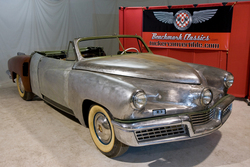 Madison, Wisconsin (PRWEB) March 13, 2009
Benchmark Classics, LLC, announces that it will complete the only convertible the Tucker Corporation ever started into production. It is believed that the prototype vehicle, which displays the stamped #57 on both its chassis and body, was to be a gift for Preston Tucker's wife, Vera. Since #57 was never completed due to the closing of the Tucker plant, this is not a restoration project, but a completion project. Once completed, Benchmark Classics will possess the only original 1948 Tucker convertible in existence. Scheduled to be done in late spring, Benchmark Classics is eager to finally showcase this priceless piece of history that was nearly forgotten.
Preston Tucker is most remembered for his attempt to challenge the "Big Three" American auto manufacturers by starting his own progressive car company, the Tucker Corporation. At the 2008 auction at Monterey, the #38 Tucker, 1 of 51 sedans in existence, sold for $1,017,500. Benchmark Classics expects that the #57 convertible will sell for a substantially higher price than the #38 sedan. Benchmark Classics' asking price for the Tucker Convertible is $5,000,000. The one-of-one Tucker Convertible has the potential to be an even bigger story than the 1-of-17 1937 Bugatti 57S Atalante that recently made international headlines.
Benchmark Classics will provide frequent updates of the Tucker convertible's completion progress at http://www.tuckerconvertible.com, where pictures and video of the Tucker will be posted. For more information about the convertible or Benchmark Classics, contact Justin Cole or visit http://www.benchmarkclassics.com.
About Benchmark Classics:
Benchmark Classics is a dealership and full-service restoration facility specializing in the highest quality investment-grade vehicles. On March 15, the dealership will be celebrating its 1 year anniversary, though its restoration team has over 100 years combined experience.
Contact:
Justin Cole, President
Benchmark Classics
608-275-3800
http://www.benchmarkclassics.com
http://www.tuckerconvertible.com
# # #