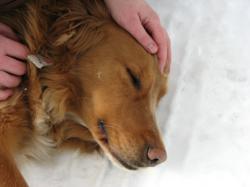 Phoenix, AZ (PRWEB) November 28, 2012
Tucker the golden retriever is no ordinary dog, every Wednesday for the last 3 years he has visited children at the Crisis Nursery pre school in central Phoenix with his owner Leslie Hosford for therapy sessions. According to Scott Craven's recent report in The Arizona Republic, Tucker and Leslie are making a huge difference to the lives of the youngsters at the Crisis Nursery.
The article on the family themed website, Ourfamilyfunnight.com, was full of praise for what they described as 'the wonderful work Tucker and his owner do for the underprivileged children of central Phoenix'. Their posting highlighted Scott Craven's news story from The Arizona Republic that reported Tucker and his owner Leslie Hosford were part of the Gabriel's Angels program. Gabriel's Angels is a Phoenix based social service program that delivers healing pet therapy to at-risk children in Phoenix - the only program in Arizona of its kind.
The Ourfamilyfunnight.com article went on to add that programs like Gabriel's Angels help children learn fundamental social skills such as confidence, tolerance and respect as well as helping to rebuild emotional ties to adults that have been damaged by neglect and abuse. According to Ourfamilyfunnight.com, abused and neglect children all over the county could benefit from pet healing if there were more dogs like Tucker around to help. You can find out more about Gabriel's Angel's by visiting their website
Ourfamilyfunnight.com is a family themed blog forum that is packed full of news, reviews, ideas, recipes, trivia and fun for the whole family. If you are looking for new and exciting ideas for ways to enjoy spending time with your family visit ourfamilyfunnight.com. You'll find a whole host of innovative and fresh ideas and opinions on how to make the most of spending time with your loved ones.