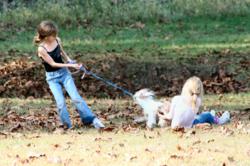 Kansas City, MO (PRWEB) November 29, 2012
The editor of Ourfamilyfunnight.com recently decided that following on from feedback received the website will now become more pet friendly, and will include regular features, stories and articles about pets. "Tucker is an amazing dog, if there were more dogs like him out there thousands more children could have a smile on their face, because of this Ourfamilyfunnight.com will now become a pet friendly zone and feature more pet focused articles in the future", said Raj Patel, editor of ourfamilyfunnight.com.
The feature about Tucker the golden retriever went on to detail how Tucker and his owner, Leslie Hosford are part of the Gabriel's Angels, a Phoenix based social services program who have visited the Crisis Nursery in central Phoenix every Wednesday for over 3 years giving children there a chance to interact with Tucker and develop their social skills.
The family fun forum was launched in late 2011 and currently features articles full of ideas and tips for fun ways for the whole family to have fun, along with recipes, trivia, seasonal indoor and outdoor games, and arts and crafts activities. According to Raj Patel, the site is currently devising a plan to include more features about pets and may even include a 'helping pet gallery' where readers can submit pictures of their pets helping both older and younger members of the family.
Ourfamilyfunnight.com is a family themed blog forum that is packed full of news, reviews, ideas, recipes, trivia and fun for the whole family. People looking for new and exciting ideas for ways to enjoy spending time with their family and pets can visit ourfamilyfunnight.com. Families can find a whole host of innovative and fresh ideas and opinions on how to make the most of spending time with their loved ones.