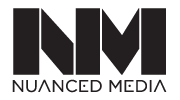 Tucson, AZ (PRWEB) February 09, 2013
Arguably the most important factor of a business' success is their online presence. Nuanced Media has been increasing their brand by expanding their online virtual notoriety.
Some of the websites Nuanced Media has been submitting directory listing to are Alike, Switchboard, and Yahoo.
Business management, in today's society, compromises store management and online presence. With millions of users every day, the internet has turned from a fad into a necessity. Each of these directories allows the companies information to be easily accessible.
Businesses all over the world can spread their brand while targeting potential consumers. An Important factor for customers is their ability to easily find the product or service they are searching for.
The first directory, Alike, allows users to give a 'thumbs up' or 'like' if the company surpassed their expectations. The Companies name appears at the top of the page with the location, and phone number under the name. Separated by borders are the descriptions, email, links to the website, store hours, categories the company may be found under, followed by photos of the company's logo, and even the employees.
Switchboard is very similar to Yellow pages. At the top of the page is an easily accessible search bar. Customers can search for businesses locally, by business or person or even what is known as reverse lookup. Reverse lookup finds the companies page based on their phone number, address or other information one might have. On the left hand side of the page, the company's key information is shown. This includes the name, phone number, location, and email, website, and store hours. On the right is a map of the company's relative location. Below both of these is a quick description of their products or services and a little bit about the company. Also, any photos are located next to the description.
Yahoo Directories is a widely used directory. The layout allows for users to easily navigate around the area local to the business. Atop of the page is the company's logo followed by the hours of operation, website, phone number, address, a quick description of the company, categories for the company's services and any customer's reviews. Over 700 million people visit Yahoo per month making it one of the most popular sites in the United States. Another important feature of yahoo's directory is the clean presentation.
About Nuanced Media
Nuanced Media is a full service Tucson web design and Tucson marketing firm. They can be found at 301 N Norton Ave. Tucson, Arizona 85719 and can be reached at 520.261.7764.